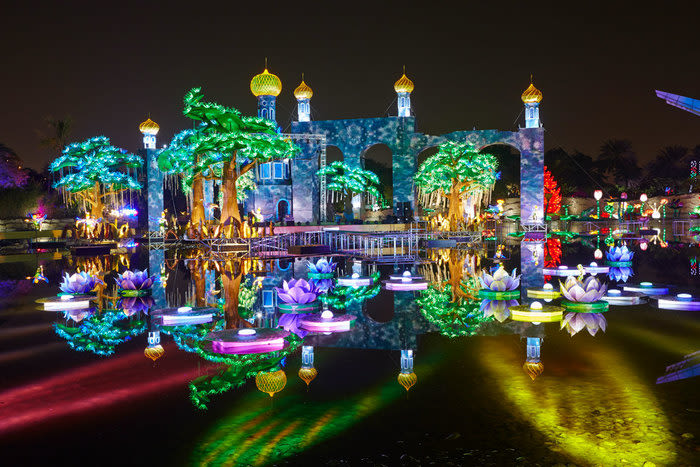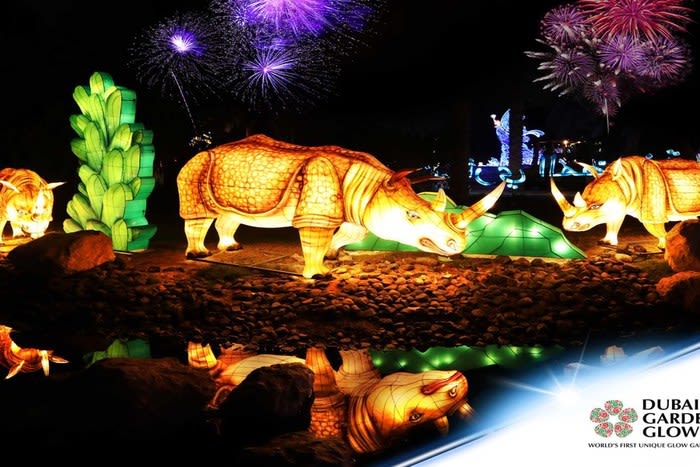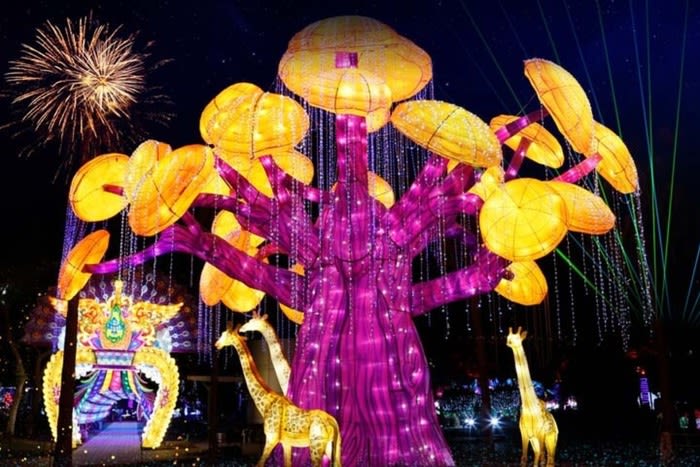 Dubai Garden Glow
dubai

, Explore The City
Limited time only!
Buy Now before offer expires! Offer also valid on weekends & public holidays. Children under 3 years old enter for free.
5 SAR cashback

Buy Now before offer expires! Offer also valid on weekends & public holidays. Children under 3 years old enter for free.
Glow garden + Dino Park + Magic Park
Buy this deal now!
Glow garden + Dino Park + Magic Park
we made a good saving for booking through QIDZ app. the even was great with all of the dinosaurs. the garde. glow was magical in the evening. our kids lived it
Reza Kasraei
Absolutely loved this place! You get to see diverse areas, dinosaurs park was such a fun experience , felt so genuine especially with the sound on! The art displays with more than 10 million led lights are really breathtaking. So many pretty colors and interesting shapes, it feels like a fairy tale😍 There are some small restaurants there, some better than others, but mostly we came for the garden experience. I recommend this for families, the kids will have so much fun!
Sara Hani
my boys loves dinosaur park
Hiba Ziade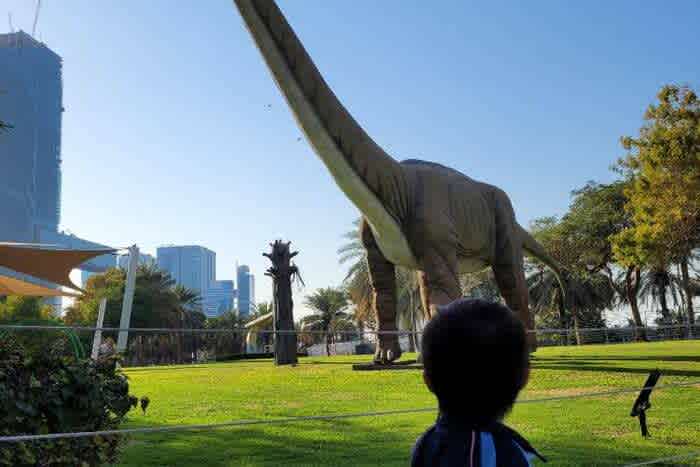 My kids loved it and we had a great time. We will definitely be going back. The only negative is that it doesn't open until 4pm, which is quite late for my two toddlers.
Emi Burrows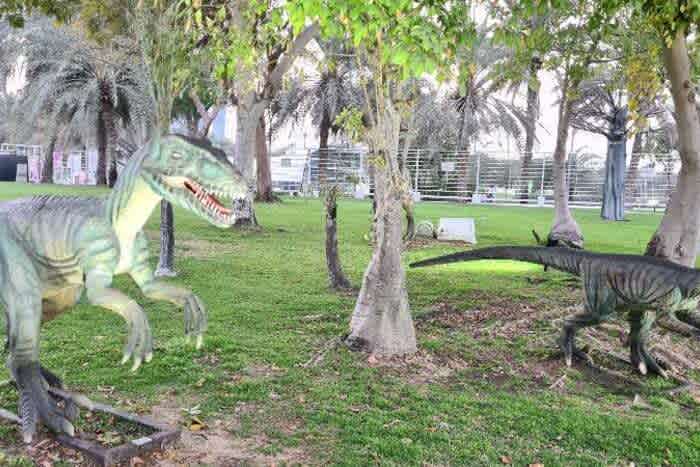 Deserve to visit
Yazan Haddad
A must go place for the kids. They have managed the park very well. Their dinosaur park is the best area for kids. The glow park is also very well maintained. Some very good spot for Instagram photos. best time to visit the park is an hour before sunset. The scenery changes entirely after sunset. There are plenty of food options, but the food quality is below average. Their illusions park is very over rated.
Waseem Anwar Waqar
Such a surreal place. Upon arrival, the animatronic dinosaurs immediately caught my attention and my inner child came out to play. The dinosaur park was filled with a range of dinosaurs to pose with. There are also cute gift stores to purchase souvenirs from. The glow park was too, mesmerizing in its own way. The way the lights lit up and complemented one another, made one feel as though they were in a magical universe. Overall, I thoroughly enjoyed my experience and I think of the spot as highly underrated. So many people I know haven't even visited the place!! They're missing out big time.
Lilly Lou
Its good. Wish we could see the exhibits a bit near but overall it was good visit. Dinosaur Park is included in the ticket which my son really enjoyed a lot. My suggestion is to visit the dinosaur park first, wait for sunset and then move to the Glow park. Train ride was a bit pricey as compared to the one in Creek Park but the attendant there was very nice and helpful. Children under 3 years go fee.
Robin Batra
Nice place, kids will enjoy a lot.
Alaa Hammad
It's a beautiful spot to visit. This is a great area to shoot photos, This location will brighten your day. It's a must-see location, and you'll be amazed if you go to the Magic Area.It will be a surprise spot for children to visit. You may have a lot of fun in the magical region. There are various taste locations for your tastebuds. It is ideal to visit during the winter season. I've attached some of my photos, and I hope you enjoy them.
Thamir Muhammed
Not worth the money.. It is better to view from out..
Kristy Renju
kids will definitely enjoy this place...its very bright full and kids could spend like half day over there as the weather is good. Its worth the price as well.
Nardeen Hany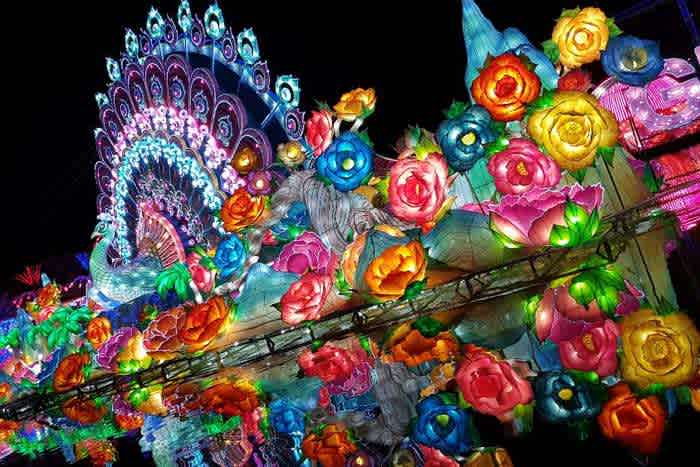 Great place. Family loved it.
Mohammad Rabie Akela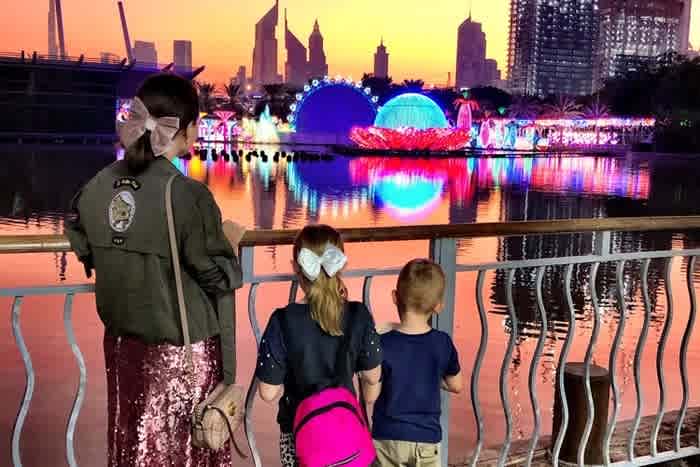 We went to visit the Dubai Garden Glow and Dinosaur Park for the first time over the weekend and we loved it. It was our first time to go after hearing so many great things so we were excited to check it out. It's a good idea to get there before sunset to take in the Dinosaur Park and then when the sun goes down - Dubai Garden Glow lights up into the most spectacular glow with millions of LED lights. Great place to go with the family for a picnic, watch the sun go down and also take in the beautiful Dubai sky line.
Irene Feeney
my two years old son loved the Dinosaur park
Houria Rahimi
my 3 year old kid loves this place and wants to go back again. dinosaur park is very interesting. Ice park is good. slippery though. don't forget to wear good shoes
Anandi Venougopal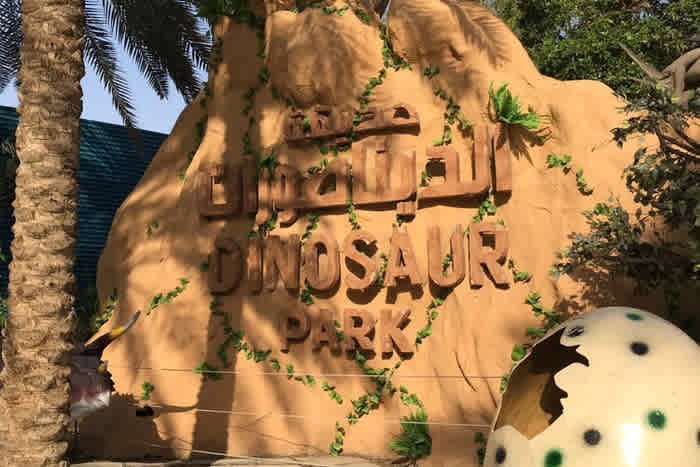 The kids and I had a great day out at the Dinosaur and Glow Park!! We went soon after opening (which is 4pm), I would definitely recommend that as it gets busier later and parking can then be harder to find. There was already a line when we got there but booking tickets through Qidz meant we could use the online booking line which was smaller. Going earlier also means you have a better chance of getting photos that aren't full of other people! We walked around the Dinosaur Park when it was light and saw animatronic dinosaurs that move and roar, learning facts about the different species from the information plaques. There is also a nice little playground in there which the kids enjoyed. As the sun set we moved over to the Glow Park where the lights come on around 6pm. It was much bigger than I thought it would be and full of impressive and fun light installations, we all absolutely loved it!! I would definitely recommend getting the panda train through the park after dark, it's so fun driving through the glowing tunnels!! The kids were already tired by then so couldn't walk around the whole Glow Park but then we saw what we missed on the train. The train is 15dhs for kids and 20dhs for adults Make sure you take cash with you as the train, facepainting, snacks etc are all extra and payable in cash. There are toilets dotted around the park, mainly the Glow Park section and the entrance area, not the Dino Park. There are food kiosks in the park both at the entrance way of the Dino Park and further into the Glow Park however they are mainly fast food and snacks. There is a KFC, Pizza Hut, Dunkin Donuts in the Dino Park and other options in the Glow Park. Make sure you have plenty of camera battery and memory as there are lots of great photo opportunities! We can't wait to go back with daddy and any visitors!
Harkee
my kids simply love the glow garden. a nice cheap activity to do with the kids.
Mirna Merhi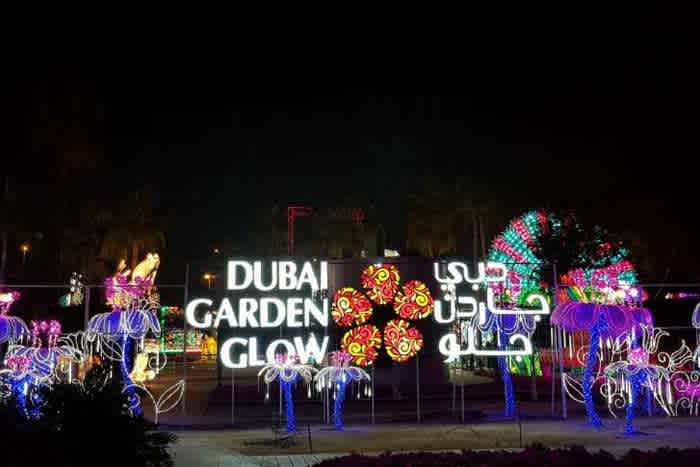 A beautiful place to visit during this fabulous weather we've been having. We purchased our tickets straight through QiDZ which we do often as it's super easy, quick and cheaper so bonus all round... We went into Dinasor Park first which our 5 year old liked but was a smidge apprehensive when they growled at him, if your child is easily spooked then proceed with caution but overall it's quite good. We got their too late for our son to enjoy the playground that's in the Dinasor Park but good to know for next time. The Glow Garden itself was bigger than we thought and just so pretty to walk around and view all the amazing light installations. A must do when you have visitors in town...👍
Grace Nicoletti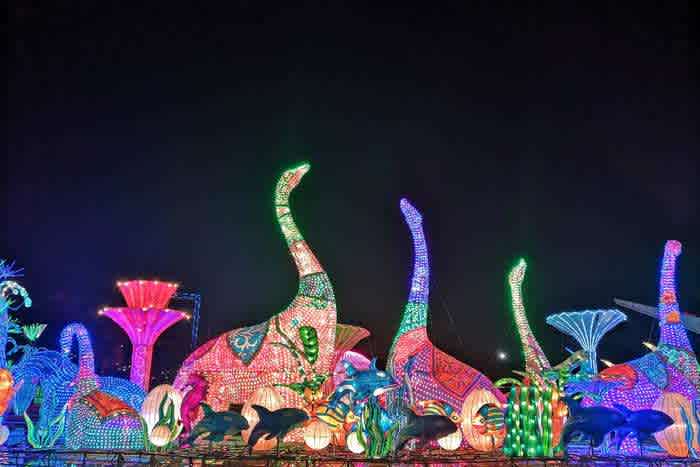 Having bought the tickets through Qidz app, we struck a great deal to visit both Dubai Garden Glow and Dinosaur park at a discounted rate. This place is a sparkling display of bright neon lights and colors displaying creations by various artists. Dubai Garden Glow'a recreation of wonders from around the world on different themes is sure to enthrall your entire family. It is visually enchanting, magical and delightful for both adults and kids alike. What makes this glittering theme park even more impressive is that the material used is recycled. The light themed garden helps to promote issues of global warming and carbon footprints. It's a perfect spot to spend an evening with your family. The park is full of various attractions, all having their own theme and giving the youngest to the oldest in the family something to be dazzled by.
Tasneem Rajkotwala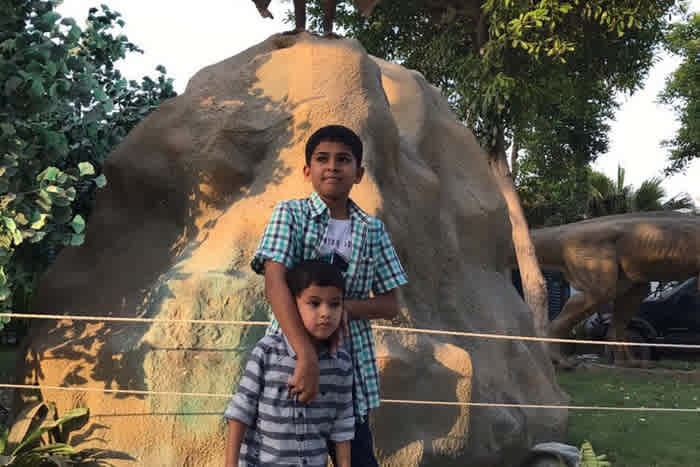 My kids really enjoyed at Dubai Garden Glow..Fantastic place .
Aishath Abdulla
I have 2 boys 2 and 4. They loved it. Just remember if your child is under 3 they are free😊
Claire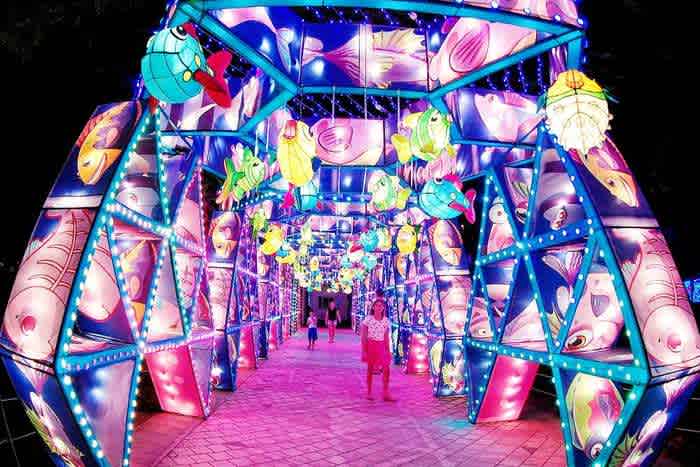 It's a great place to visit this winter. You feel like you are in a wonderland filled with amazing colors and lights.. Dinosaur park was so well made and kids will absolutely love it.. My daughter was terrified because of the sounds that came from the speakers but later she enjoyed it..
Neelima Azad
Beautiful garden with glow statue every where, amazing concept and beautiful theme. Loved it completely. And even dinosaur park was very nice to visit with kids. Loved the total experience at that place.
Dr Garima Malhotra
This is a good place to enjoy for the children. The adults also can enjoy, but not for long. Not value for money, if you are not with children. However, if you have time and not visited the place before, you can consider visiting even alone.
Arun Das
Great for elders and kids! Nice place for amazing clicks and a fun experience. Must go place for all ages and you won't have any regrets whatsoever. Not expensive at all. Worth it every moment spent there. Must go place for visitors and for residents as well. So go and enjoy!
Ami Shah
it is a beautifully set up place which is a complete package of imagination of a child's story world , colors and legacy of development of dinosaurs . It is best enjoyed if you have a child below 5-6 years. well maintained park for the outdoors picnic and play around. Good facilities and food counters . Total treat to your eyes , for the child within you.
Rashmi Murali
Dubai Garden Glow. This place of incredible beauty with a lot of burning lights! Everything is bright and colorful. Here you can easily plunge into the world of childhood and feel like a fairy tale. Interestingly, Dubai Garden Glow is an ecological project, the figures for which were created using recycled materials, including old medical bottles.
Аnna Grassy
I have been here twice. Coming here once should be enough. It is a great place to bring the kids as its inclusive of the Dinosaur Park. The first time I came here, it was raining, so most of the lights were not working or "glowing". The music that they play is lovely as it compliments the garden glow. It's nice to come here when its not too crowded. You could cover the whole park in an hour.
RD Taff
Dubai Garden Glow can trigger those happy hormones, for starters, the bright lights and colors can increase energy levels and boost happiness. Maybe it's just the ambience - who can resist smiling as you see the entire park light up? The park open its door at 4pm, it's the perfect way to get the little ones running around and build up to the light show that starts at sunset.
Abdul Hakam
A very nicely made theme park. Part of the park is dinosaur themed and it has on display all types of dinosaurs with a brief history of each of them. The glow park is a treat for eyes with lighting models of various types. One needs to have a lot of patience to walk the distance. Overall, this is an amazing park and highly recommended.
Karthik Jonnakadla
Very nice place to visit... But if you are visiting on an Holiday then better get there early as parking is a big issue... Best time to visit is post sunset... But the garden is very green place here. Beautiful place to be in the evening. U can see the beautiful lights glow, making good ambience. Make sure you enter fro....
Saha entertainment
Very nice place to visit... But if you are visiting on an Holiday then better get there early as parking is a big issue... Best time to visit is post sunset... But the garden is very green place here. Beautiful place to be in the evening. U can see the beautiful lights glow, making good ambience. Make sure you enter fro....
Saurabh saha027
Very nice place to visit... But if you are visiting on an Holiday then better get there early as parking is a big issue... Best time to visit is post sunset... But the garden is well maintained and very beautiful... All the artwork are soothing and pleasant for yours eyes... Also do visit the Dinosaur park... It's really a happening place... Will like to add that entry tickets are costly...
Rakesh Sharma
My god this is really great. Kids will love this. It's like a magical garden & we landed in heaven. The dinasour area is very realistic as my wife afraid to come inside. Anyone visiting Dubai with kids this is must visit. Food items here are really good. Well organized. Can take 1000s of pictures.
arun kumar
Don't bother buying your ticket online. You still have to stand in the exact same line like everyone else. What a setup, suggestion, make a separate line for online bookers. Waiting time 20+ minutes to scan/get tickets. Ensure to take heaps of cash. No where accepts card. You can't even buy water!!
Rianca Hepburn
very green place here . Beautiful place to be in the evening. U can see the beautiful lights glow, making a good ambience. Make sure you enter from gate 6 or 7. Gate 1 entrance is from Zabeel Park and you will have to walk entire Zabeel Park to reach Garden glow. If you want to capture good pictures, ensure you have a good camera to click in the low light and extreme bright. You will also see the dinosaur history.
shahadat Khan
Overall it is a nice park but a bit expensive for what you can see. general entrance is AED 63 and if you want to enjoy the ice park and dinosaur park it costs you more than AED 120. Your kids will enjoy it as there is also live music. Also please be aware that parking is limited so if you are going on a weekend I suggest you take a taxi!
ines Mena Moral
Ideal for an evening out with your loved ones or even alone. Do have your picture taken at the love stage. Amazing display of lit up objects that can serve as props for your photos. The experience is once in a lifetime and unique of it's kind because there isn't any other park like this. There's live music too. But the ticket is a bit expensive as compared to the things you can see. All in all, a place for a one time visit.
Fizza Khorasany
It's a lovely place if you're going there with someone. Maybe not the most entertaining place to go alone. Though the ice park is a bit small, it's definitely worth a visit. If you like nice mellow atmosphere with an aura of fairy lights then this might be a place for you
Mustafa Farrukh
В этот парк имеет смысл идти только с детьми. Мест для сидения мало и тут нет спокойствия и умиротворения. Громкая музыка. Да и для детей почти нет качелей, каруселей. Все красивые парковые фигуры надёжно огорожены. Трогать ничего нельзя. С другой стороны, парк очень красиво оформлен. В парке динозавров отличные движущиеся фигуры динозавров. Все красиво. И ясно, что красиво, отчасти, потому, что трогать ничего нельзя.
Михаил Киселёв
Dubai Glow Garden and Dinosaur Park is a nice amusement park for family outings ( for kids and adults alike). Glow Garden - The lighting structure is changed every year. It's unique and adds possibility of repeat visit. A leisurely walk through both the parks (with photographs !!) would take about 2 to 3 hours.
CA Vivek Nahata
Garden Glow is located at Zabeel Park. The park is not enormous but skillfully arranged and bit expensive compared to Global Village it Miracle Garden. The park will open at 4pm only. In the dinosaur park, almost 25 to 30 real sized and sounding dinosaurs creates Jurassic Park style touch and little ferocious and fun. They provide a wonderful opportunity to pet the dinosaurs and have plenty of perfect photographic moments!! They have arranged children's play area in the center of dinosaur park with mechanical fairground style rides and activities. Throughout the park lot of marveling in awe at the displays like varieties of garden scenes flowers, butterflies, tulips, windmills and more. Totally bunch of neon lights, but it creates a magical experience overall. Appreciable artistry and creativity. Food is available on site. We need a minimum 3 to 4 hours in total to cover all around. The overall experience is awesome. There were plenty of things to feel we got value for money. Highly recommended.
Sudhi thulaseedharan
Kids loved this place. It has multiple sections - Glow Park, Diannosour Park and Snow Park. Snow Park is a separate ticket and don't miss seeing it. Glow Park has few food options inside but most of the food gets over by 9:00pm. It was great to be here and had amazing experience. Walk slowly, enjoy and notice the exceptional creativity in this park.
Priyank Jammar
Awesome place. Dinosaur park is fantastic. The movement which it gives looks realistic. 4 hour activity. Have a photographer to take all pictures to keep it in your memory lane. Nice to spend some time in the middle. Enjoy !
Rishikesh Chidhambaranathan
It's a really good place to visit with family. Your children will love the place and they will learn a thing or two about prehistoric animals too if you visit the dinosaur park. If you go there I recommend you visit the three parks together "new park, ice park" It's an amazing place to visit either with family, friends or loved ones. Recommended
Arman Alawadhi
One of the lovable and coolest place in ALJAFILIYA. This very special for Families, young couples. If you have interest go for evening. Garden lighting, cafeteria, snacks every thing here. We should spend here for Two hours with camera for beautiful moments. FRAME is the big attraction here. Go and enjoy the moments.
rkr BALUSU
A unique concept of entertainment where one place present so many lights in many themes. It is a treat for eyes and worth visiting place. Adjacent to lights park it also have dinosaurs land where you can witness various kinds. The parking is free but limited and entrance ticket is valid for both gardens.
Atif Altaf
As the name goes "Garden Glow", you could expect a garden that glows with colorful lights. More like a family kinda place, more facinating for children. 3 parks to visit at the place 'glow garden', 'dinosaur park' & 'ice park(which is yea! At extra cost)'. Over all a good place for a one time visit. Enjoy!
Valen Falcao
Brightly lighted beautifully. Attractive and has lot of dinosaurs look like and other animals. The whole Park can be seen alongside Road and it's beautiful in evening. The colours and luminous flares of light make this place tremendously beautiful and Highlighted and worth visiting. Have a bite of glaring garden beauty when you nearby this park.
Abhishek Mehta
There was quite a lot to look at, many pretty things but nothing breathtaking. The light structures require a good camera or one of the better phones if you want any successful pictures. The ice area was also quite nice and had a few sculptures to look at (a 10-15min visit max). Dinosaur area was informative and likely a fun attraction for most kids. After being there once though, you wouldn't go again because you can see everything within 2-3h depending on how many pictures you take on the way. Fee is 60 for the dinosaur and light park entrance + 40 if you want to go the the ice area (100DHS total).
Patryk Sobczak
Lovely place to be in the evening! When it first started it had very few lit trees, but slowly and steadily the whole park is now lit. And so it has attracted equal number and f visitors. On the other end is the dinosaur park... which is quite an attraction. There are almost all the major Dino here. Many have subtle movements and hence look very dynamic and have become a major attraction for kids.
Prash Sankhe
Love every moment spent here and would recommend Dubai garden glow to tourists and residents alike. My favourite part of the garden has to be the dinosaur park. The sizes and sounds of the dinosaurs are really impressive. It feels real. The glow garden is also a sight to behold. This park can be enjoyed alone or with your family and loved ones.
seraphina quarshie
You can visit Garden glow park and Dinosaur park with a single ticket. It has got a running track outside the park. Good for kids as well as for adults.
Melvin Kurian
You have to go there once, just to check that box. What's in offer Vs the ticket price it ends up as less value for your money. If you have a DSLR and wants some good night shots it's a good place to wander.
Jayan Kalarickal
Nice and fun place for kids. Dinosaur park ia very good with different species of dinosaurs and their information
Salman Usman
Could've been 5 stars. The place is perfect. I mean the attraction. But parking is a nightmare. Go after 9:00pm when it's better to park.
Daniel Menezes
Entry fee is 60 dhiram per person....little bit costly...there are 3 park in this ...dinasore park..dubai glow garden and ice park (ice park entry fee 40 dhiram seperate)...its 4 to 5 hrs enjoyment so visit as early as possible...and try to reach before sunset so we can take dinasore pics nicely...fst try to visit dinasore park before sunset.
Pratik Vengurlekar
Beautiful place..a must visit place to see different glowing themes scattered all over park. Dinosaurs park a real deal this year. It makes u feel like walking among living dinosaurs
jay D
really magical! we loved it. Lovely place for an evening stroll.
Simona Agolini
Dubai Garden Glow is Dubai's leading family entertainment destination with a first unique Glow Theme Park in the Middle East. Dubai Garden Glow also offers 2 theme parks in one location. It also offers variety of dining options from different cuisines. Dubai Garden Glow structures are created by artists from around the world. It has performances for the people in the evening from artists. There is a bus from Zabeel Park front gate to Garden Glow.
Abdul Mahshook
Garden and dinosaur park. Great idea and wonderful execution of project. Perfect for one time visit. Ticket price is little high.
GOKUL V J
This place is like heaven for kids. They will go absolutely mental here and could spend the whole day here. Amazing photos can be taken there too.
Dr Abdulaziz Alhashimi
At Aed 60 entrance fee per person i wished it had more to offer... but it's still a decent place to take kids...its a good two hour walk inside the park and several photo spots.
suhail siddiqi
Nice place at night with all the lightnings. Kids would love the place for sure. Dinosaur park is intersting. Visit during winter as the park is an outdoor only.
Gayan Buddhika
A park with full of illumination. Kids will love and must visit place at once. The entry fee (AED 60) is so expensive, you think of better visiting a magic planner or somewhere while with family. Dubai Garden Glow is inside Zabeel Park (Gate 4 &5), dubai. Radio events and other public events do happen in Zabeel Park.
Viju Vijay
I hadnt been here as I really thought it was quite expensive and did not relish spending that amount of money on a garden full of lights but we should have known better as of course it was far more than this. It was fabulous and each attraction and display brought more wonder and excitement. We arrived at dusk so did the dinosaurs first which we enjoyed especially trying to work out the sensors to make them roar! We were a group of myself and 4 children ranging from 8 to 12 and they all thoroughly enjoyed it. The Garden Glow itself was far bigger than we had thought but there were lots of places to stop and sit along the way. A great evening out and we will definitely be going back!
Fiona Cameron
Glow garden is just a normal park with full of Illuminations... Might be interesting for people who like to see it.. also for kids. Main attraction is the dinosaur exhibit next to it.. that is really a special treat for everyone! Must see attraction when in Dubai
Renju Zacharias