Home
/
Dolphin, Seal & Bird Show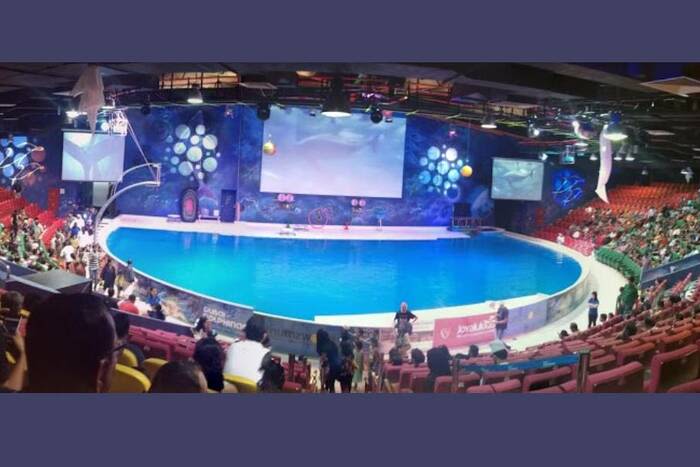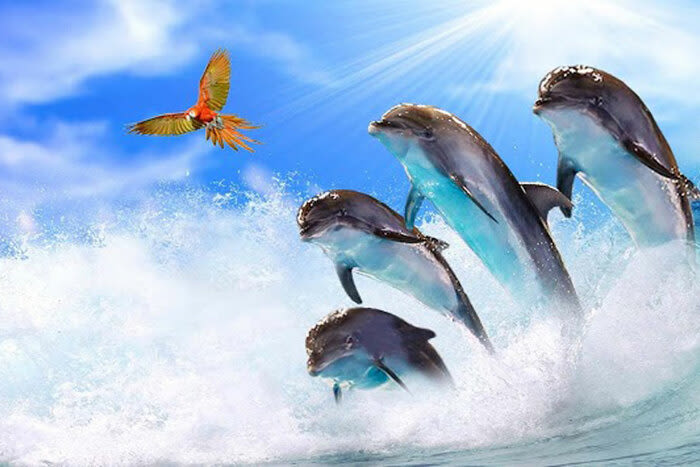 Dolphin, Seal & Bird Show
other

, Explore The City
< 0-12 yrs
Family Activities
UAE
Limited time only!
Buy Now before offer expires! Children under 2 years old go for free!
Read these deals terms and conditions
Dubai Dolphinarium General Terms & Conditions:
*All children must be accompanied by an adult as per the new regulation
*Child below Two (2) years old is free. Other attractions inside Dubai Dolphinarium child age might be different and condition must be followed.
*Exactly Two (2) years old and above needs a valid child ticket
*Exactly twelve (12) years old and above needs adult ticket.
*A child less than 7 years old is not allowed to enter the show arena without any accompanying adult.
*Tickets cannot be used in conjunction with any other promotion/discount or special rates.
* The cashier has the right to refuse any transaction that has any procedural conflict and technical issues regarding any offers.
*Dubai Dolphinarium show ticket does not include Entry Fee to the park, All entrants must pay entry ticket to Creek Park this charge is made by Dubai Municipality and is non-negotiable
*Prices and show timings are subject to change without prior notice
*Dolphin and seal show: 11:00am or 18:00pm
*Bird show: 12:15pm or 17:15pm
*Free seating on regular seats may be applied during holidays or any shows that Dubai Dolphinarium management choose.
*Guests are requested to follow seat numbers when assigned.
*Dolphinarium reserve the right to refuse entry and to eject individuals for reason of inappropriate behavior without refund or explanation
*Dubai Dolphinarium reserves the right NOT to issue again any lost tickets. Guests are requested to check their tickets and change before leaving the counters.
*Ticket purchase is valid only for show issued & NO REFUND / NO TRANSFER
Dubai Dolphinarium vicinity rules:
*Please respect your fellow customers and do not approach the ticket counter unless it is your turn.
*Strollers are not allowed inside Dubai Dolphinarium Arena
*Children must be always supervised by Parents / Guardian
*Guest are requested to wear proper clothing; any guest that is wearing indecent clothing might be asked to leave the premises
*Smoking is not allowed inside Dubai Dolphinarium and its premises unless otherwise assigned.
*Customers are not allowed to throw any material at Dolphinarium pools.
*Dubai Dolphinarium is NOT responsible for any lost items, strollers and any personal belongings of the guest.
*Dubai Dolphinarium security/cashier might ask identification of child for age verification purposes
*Dubai Dolphinarium is not responsible in any changes in the booking from travel agencies or any bookings made outside Dubai Dolphinarium counter or website.
*Guest can contact Dubai Dolphinarium for any special prices or promotions not listed in any written communications or online.
*Please be informed that Dubai Dolphinarium is monitored by CCTV

Buy Now before offer expires! Children under 2 years old go for free!
Exotic Bird Show (12:15 PM or 5:15 PM)
Buy this deal now!
At the Creek Park Bird Show we have over 20 different species of parrots!
... Read More
Dolphin & Seal Show Tickets (11 AM or 6 PM)
Buy this deal now!
Get up close and personal to graceful bottlenose dolphins and playful seals
... Read More
Activity Description
At Dubai Dolphinarium, visitors get up close and personal to graceful bottlenose dolphins and playful seals at the action-packed live shows. This interactive extravaganza showcases these amazing animals' astounding skills. Visitors watch in wonder as the dolphins and seals perform incredible acrobatics, dance, sing, juggle, play ball, and jump!
Reviews
There aren't any reviews for this activity yet. Be the first to write one!
When
When
Sunday
11:00 am - 07:00 pm
Monday
11:00 am - 07:00 pm
Tuesday
11:00 am - 07:00 pm
Wednesday
11:00 am - 07:00 pm
Thursday
11:00 am - 07:00 pm
Friday
11:00 am - 07:00 pm
Saturday
11:00 am - 07:00 pm