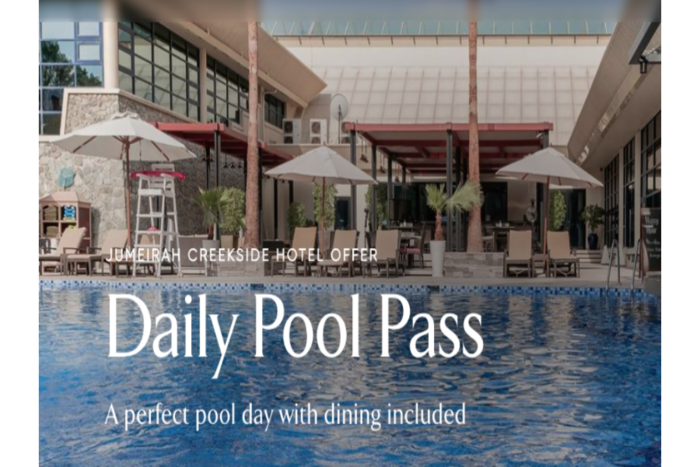 Daily Pool Pass with Dining Included
dubai

, Explore The City
The hotel has a great outdoor terrace with very good food. The breakfast buffet includes delicious cuisines from all over the world. Staffs are very friendly and ready to welcome you with a smile. 😊 Contemporary suites with amazing city 🏙 views in an upscale property offering a spa and 3 eateries. You get free passes to wild wadi and the private beach. 🏖
Raffael Kenny
Staff education on how to communicate with guests. If you don't feel welcomed, definitely, you will not come back again to this hotel. Staffs need to do there best to provide comfort for the guest even on check out. I I feel sorry for the quality of food provided by this resturant. It us really a shame to have this quality of breakfast and food in a 5 star hotel. One star hotel will provide much better food.
Al-Naser A
It's super clean with super amazingly friendly staff. On my second time there in a year, I arrived on a noon and as I tried to take a nap, I found the mattress uncomfortable for my tired back. Just one complaint and the mattress was changed to suit my body type's need. Three different managers/supervisors in all checked if I was now totally satisfied. Was I? Yes! Overly satisfied. I loved the steak at the restaurant too. Too many great memories there. I highly recommend it. At the concierge, Anderson's smiles makes a tiring day fade away quickly. Great guy.
Paul Baah
The hotel is very good quality, the staff very friendly and pros, only 15 minutes walk to PCR test and 18 minutes to line Red Metro. Many good restaurants around and the price was OK, almost the same range of good 4 starts hotel but for a 5 star. As a frequent traveler, I recommend this hotel, especially the premier room, to the couples in love or even the lonely businessmen. The restaurant of the hotel is quite expensive but it is normal for a 5 starts hotel, though you can find many good restaurants within 200 meters of the hotel.
Hamed SARGAZI
What a great hotel. Honestly, I wasn't sure what to expect due to the location and if I'm honest, somewhat dated decor, but the stay from start to finish was perfect. Comfortable rooms, everything super functional, great pools, food, service, valet - just excellent. Pleasantly surprised!
Chris Abitbol
A couple of nice restaurants and pool bar but also good for just a refreshing juice or tea/coffee. Because you can use valet parking it is easy and convenient to even visit for a short visit and have a snack.
Dorothee Blythe
Excellent hotel. I recently went there on a weekend getaway. The whole combination it offers is unmatched. We stayed in the family suite which was HUGE. The amount of electronics / automation in the room was amazing. We got free access to Wild Wadi water park which is the top tourist attraction in Dubai. We were able to go to the water park on both our check in and check out days. The breakfast buffet was excellent. The menu was extensive and we (a family of 4) had a tremendous time. Everything was included in the price we paid at check-in. Even the mini-bar in the room was complimentary (soft drinks, some fruit and some juices). I will definitely recommend and definitely go back once more if I get the opportunity. Jumeirah group has left a lasting impression on me in my first experience with them. I can only imagine what the experience on their higher-end hotels would be like. One fine day... i'll experience those too.
Saad Naveed
You can walk to the Irish village, lots of taxis waiting outside all the time, we like to eat lunch at the little sushi restaurant near by the hotel. Very close to Coffee shops. Italian restaurant was not bad. It is a Just good location city hotel near by everything. Espresso machine was in the room, but it was not clean. Breakfast was not amazing. And the Spanish restaurant was closed.
yujeong jun
Outstanding service, located adjacent to "Irish Village" where you can find drinks and food. Everything here is beautiful, my Hotel of choice when staying in Dubai.
Tim Hall
Fantastic hotel, well decoarted. I attended a function at the ballrooms and place was fantastic. Staff in different positions were very nice and professional.
Abdelrahman Khammash
The staff are welcoming and friendly and very helpful. The rooms are very clean and well arranged. The toilet is wide and has several doors for different needs. The Hotel has alot of facilities. There are two pools. Small one on the roof and another one beside the ground level an outside one which is good for tanning. The buffet breakfast is delicious and has almost all kinds of food. A place i advise people to take into consideration when it comes to choosing a hotel in Dubai.
Mark Twal
It's a lovely place to be. I would recommend it to anyone who is looking for comfort and pleasure. The restaurant is awesome.
Bongiwe Mabusela
It's one of the best hotels in Dubai! Rooms are big enough, good breakfast and great club room . Staffs are trained and kind and also hotel gives free access to waterpark. The real 5 star hotel who take care of customers in very professional way.
Sadegh arefi
This hotel is in a great location. They offer a free shuttle and the staff are very helpful and knowledgeable about activities. The rooms are gorgeous, spacious and well kept. We really enjoyed our stay.
Samantha Shipley
I stayed at Creekside hotel on my very first holiday alone for my birthday and I have never felt so welcomed. Little details like - making sure I was comfortable - placing me in a more private table at breakfast with a good view of the pool, escorting me through the buffet offer before being seated. Everyone was also very friendly and would greet me every time which made me feel not soo alone which was great! On my birthday they also surprised me with a delicious birthday cake. I would definitely stay in this hotel again.
Selina Ong