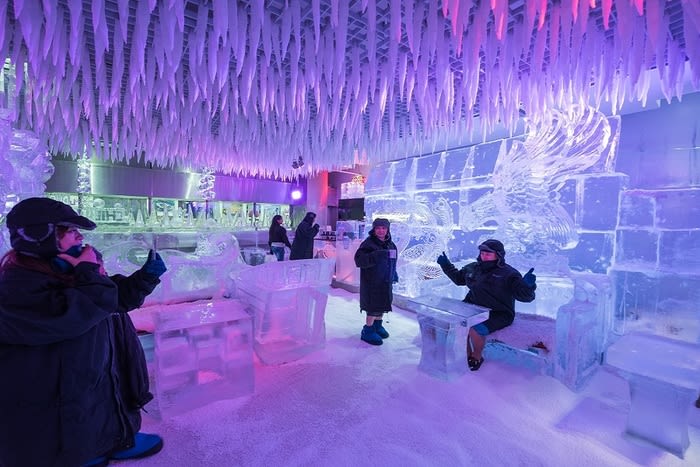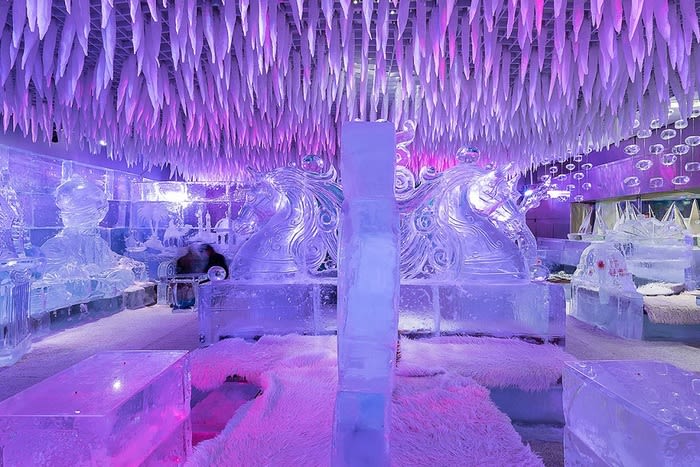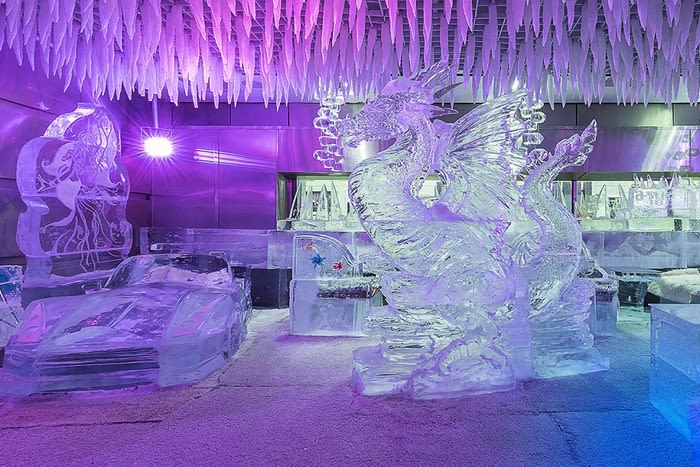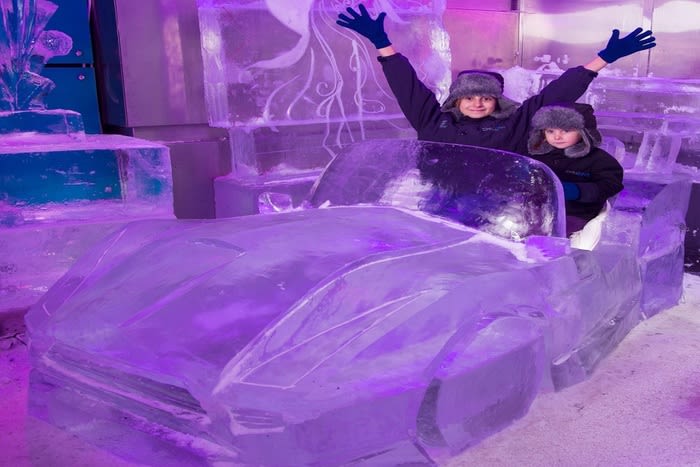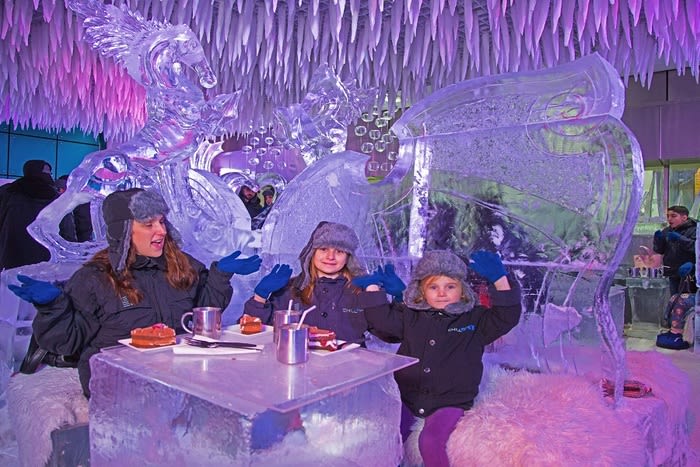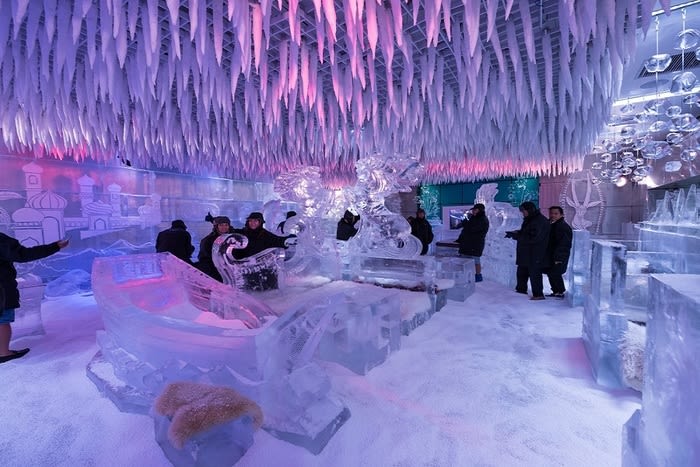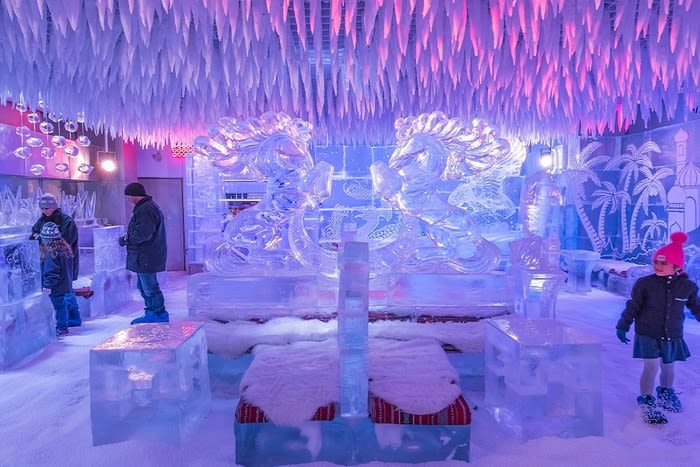 Chillout: The Freezing Dubai
dubai

, Explore The City
Limited time only!
Enjoy a hot chocolate sitting on ice benches & surrounded by ice sculptures at a subzero temperature! And don't worry about clothing - all you need to keep warm is included in the price!
5 AED cashback

Enjoy a hot chocolate sitting on ice benches & surrounded by ice sculptures at a subzero temperature! And don't worry about clothing - all you need to keep warm is included in the price!
Entry fee for 1 child
Buy this deal now!
Includes: use of thermal clothing (jacket, gloves, hat and shoes), welcome drink (hot chocolate or tea), for 1 child aged 4-12 years old
Entry fee for 1 adult
Buy this deal now!
Includes: use of thermal clothing (jacket, gloves, hat and shoes), welcome drink (hot chocolate or tea), for 1 adult aged 13 years old and above.
Mohammed Bin Abdulla Jarrah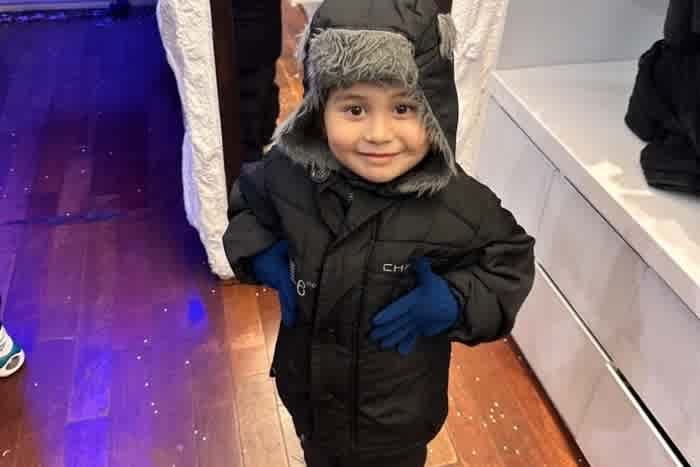 It was a fun activity, my daughter enjoyed a lot. There's a complimentary hot chocolate and chicken skewers which taste good. Will definitely come back again.
Maryam Almasri
very nice but cold 😓
Salah Zidan
wonderful freezing experience
Prakash Aswani
Great experience if you wanna try something "cool" ;) U will get a special equipment to feel warm and enjoy your staying. There are also beautiful ice sculptures worth taking pictures. Check it out 👍
Ronny J. Friedl
It is a nice experience you do it once in your life time. The fact that you are sitting in a room surrounded with ice blocks and statues made of ice in the middle of a country with desert biome is exciting. Plus, the complimentary hot chocolate cup comes to warm your stomach . Kids will definitely enjoy it. But I don't recommend it for couples, you can't remove your gloves. Your fingers will freeze.
Hatem Radwan
It was a great experience, as its the opposite of what you experience everyday in dubai "hell". It was so cold i stopped feeling my fingers after 15 minutes. The staff were kinda lazy, there was trash on the tables (left over by people who left) and the staff didn't bother to clean it up 😤
Younes Megaache
Chillout Ice lounge is a cafe maintaining in minus 3 degree . It was a new experience to have a coffee and hot chocholate by sitting on ice table and ice bench. The interior design is full of ice only. The ceiling is made full of ice only. The lighting and sitting arrangement is a special view. Everything made up of was ice. Could enjoy with family.
Sreema Sreeraj Anil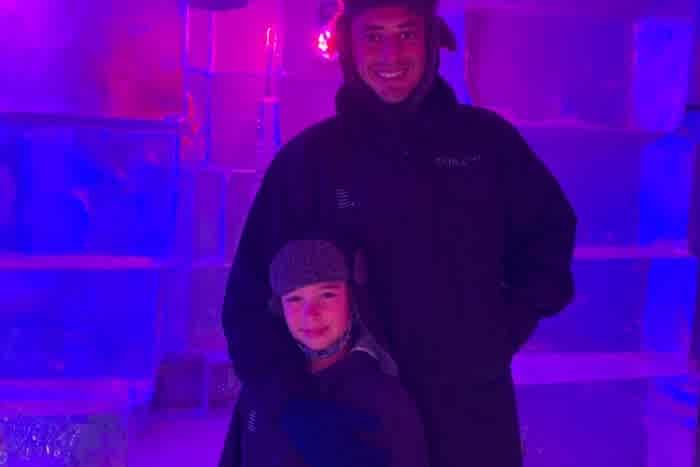 fantastic photo opportunity, refreshing escape from the heat , very yummy hot chocolate! highly recommend popping in for a chill.
Liz Egerton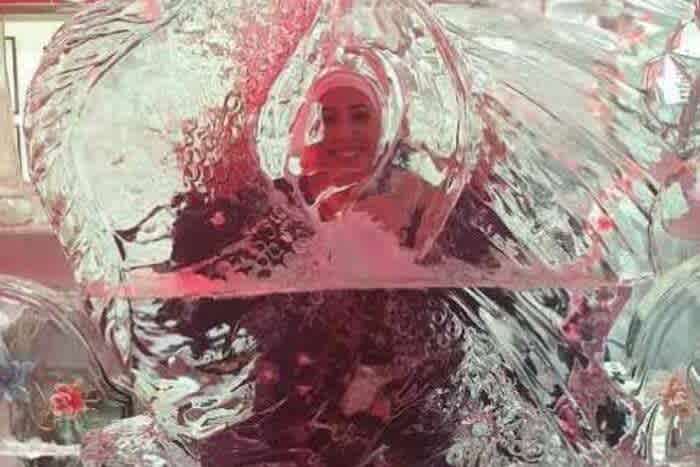 small area but nice experience
DrMalaz Yabroudi
it's one of the perfect places to be visited especially in this scorching summer.For smaller kids, make sure they have their body covered with clothing I.e like wearing a pant instead of trousers will be better, otherwise kids may feel uncomfortable within few minutes of entry.
Huda Illias
very fun
Helena Khalil Rahi
less than my expectations
mahmoud ashmawy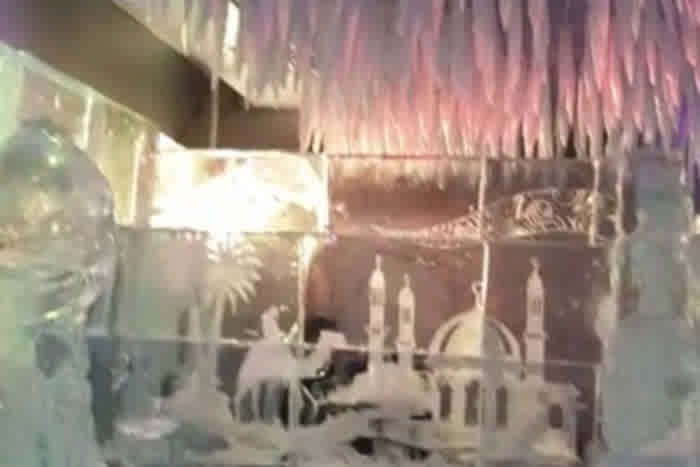 This is a fabulous place to let ur lil one experience the chillness during peak summer in dubai where everything is made up of ice including table chair and monuments. must try once for sure
pooja
awesome experience
Madhu Satyani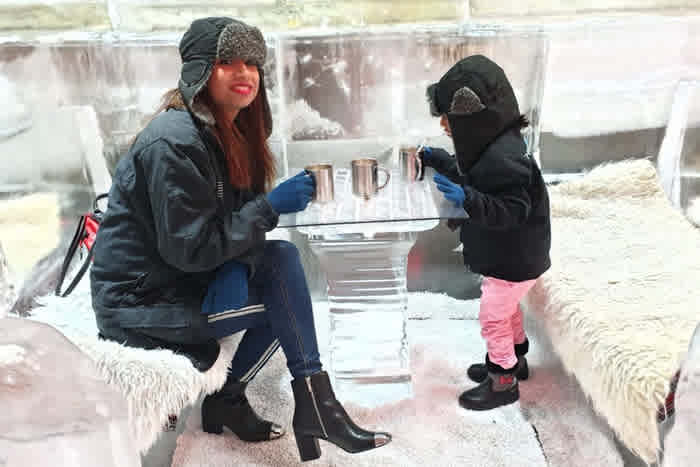 Please follow me on instagram @love_life_littleone for a complete review and video of my experience at Chill Out Cafe in Dubai. ----------------- IF you are craving for some FrozenFever , like #whitesnow around you, or sipping a piping hot cuppa of #hotchocolate enjoying the cold waves of -6 degrees temperature, like you are sitting in the Alps, in the comfort of Dubai, then I suggest, you make a trip to UAE 's first #icelounge Cafe called #chillouticeloungedubai . . We saved money on flight tickets and instead went to the #timesquaremall on #sheikhzayedroad, and enjoyed an evening having a Brrrrastic, freezing, sardi mein kulfi kinda time.. . The tickets are available easily on Qidz App.
Meghna Dixit Subramaniam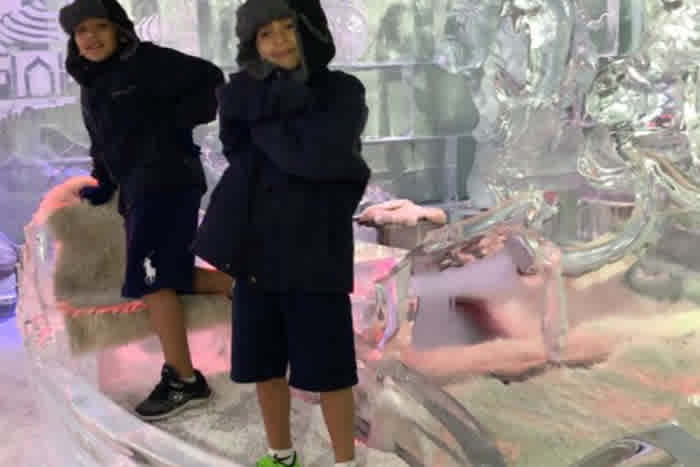 a very beautiful and quiet place , my boys enjoyed the place and couldn't believe the temperature to be minus 6 degrees.
Sweet Uaeyah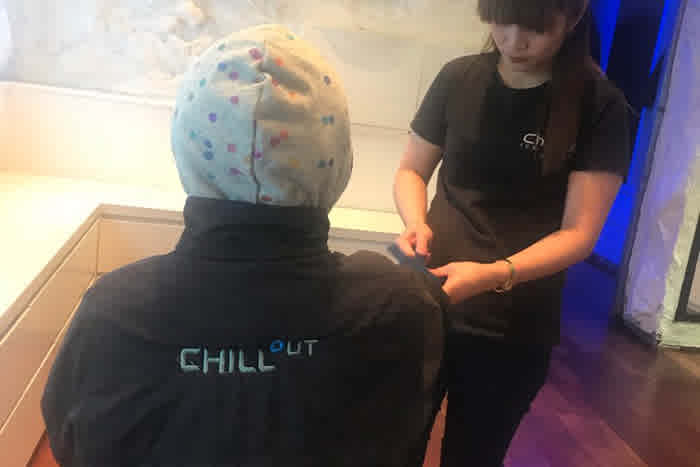 Definitely something a bit different when you live in the desert! More of an experience than an activity, it is a novelty to dress up in warm clothes and step into a freezing lounge where all the tables, seats and decor are made of ice!! There is an ice Burj Al Arab, Burj Khalifa and ice car and ice sleigh which the kids can sit it as well as lots of other ice sculptures! Included in the entry is a hot drink of tea or cocoa which is quickly delivered to your table and you will really appreciate that warmness!! the lounge also does other drinks and food for additional charge. Warm jacket, hat, gloves and boots are provided but do wear long trousers! We were the only ones in there when we went on a weekday afternoon so that would be a good time for families, we were told it gets busy on weekend evenings. We weren't in there very long as my little one started to feel cold but it was a fun little refreshment break for us!!
Harkee
Visited with my family and friends on Friday. - Parking is easy to find. - Got an offer at the time of payment for my Bank Card. - Spend like 30 minutes. - Hot chocolate is average. - Serving staff don't care what are you doing. - Its expensive for a cup of hot chocolate.
Aakash Roy
its an amazing resturant-5° i will come soon 😎😎 and Nice Hot chocolate Cafe
Mohammad Algezeeri
Small place but good and the hot coco was amazing , so cooold
Mesh Mohammed
It is a different place to see. Well maintained the temperature. Floor setting can be improved and they should change the so called "Hot Coffee" with good one instead of complan/milo kind of chocolate drink. The place is crowded when there is group of people are inside you will very less room to move around.
Hassan Abdul Kader
It's an awesome experience. I ❤️ Dubai.
Alaa Farag
Nice family place, freezing cold of -6. Please wear long pants as they dont offer pants they only offer jackets and gloves. The hot cocoa brings memories of childhood 😍
Dr Vaizel
It is an amazing place. The hot chocolate was really great. Will come here next time
Trí Bùi Mạnh
It's very bad experience there was cake included in our deal and they lied and excused us that it's currently not available but I found available in their facility. There is nothing for entertainment just a small type of hall where they kept all ice made animal and other stuff and lightening. The costume they provided was very bad...in short it's a waist of time and money to visit them..
Shamim Hussain
Great for older kids to enjoy and to take fun family photos. Hot chocolate is delicious, but not much food on the menu. Perhaps too cold to enjoy a meal anyway!
A AL