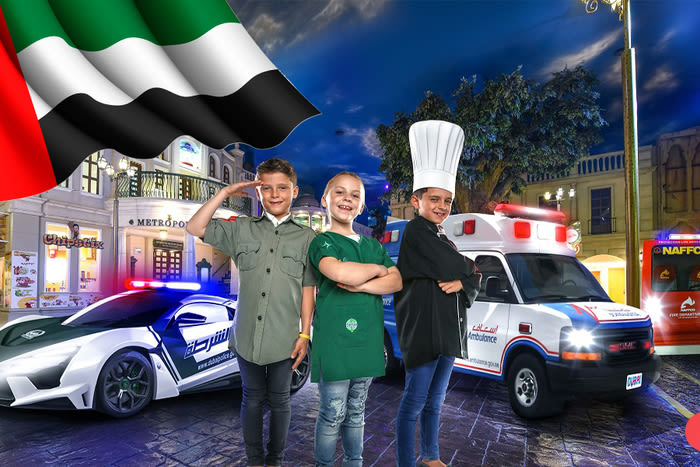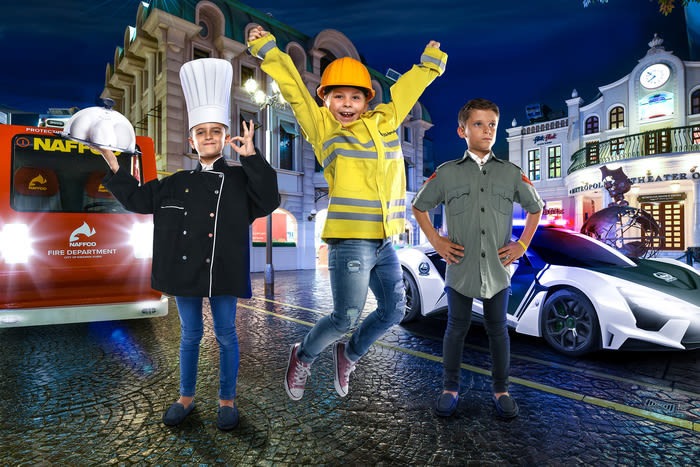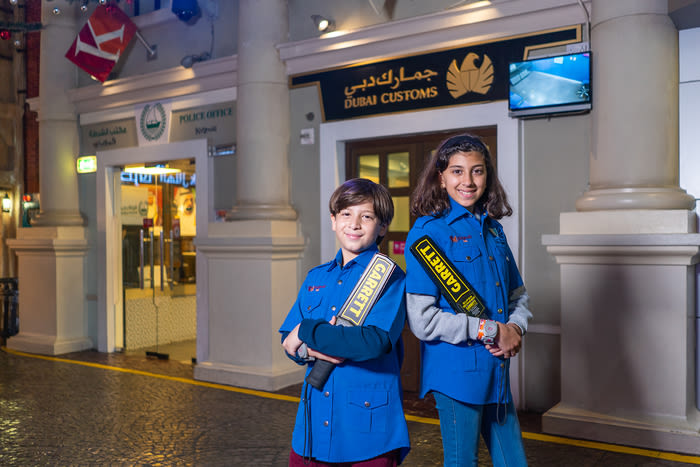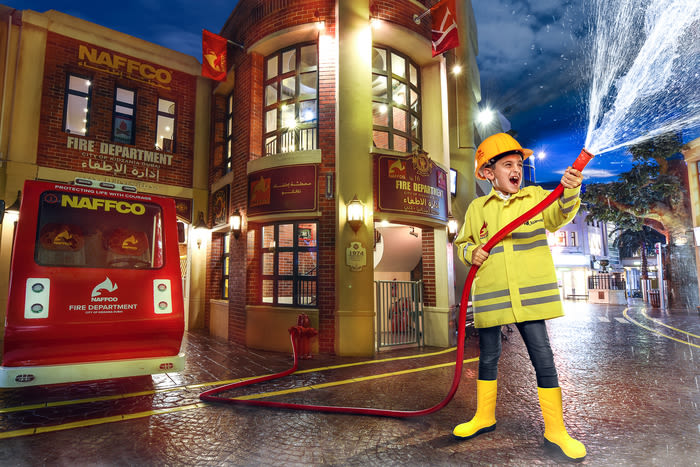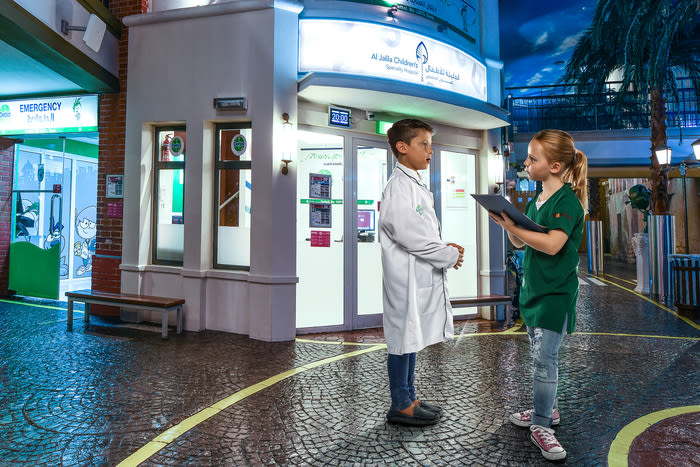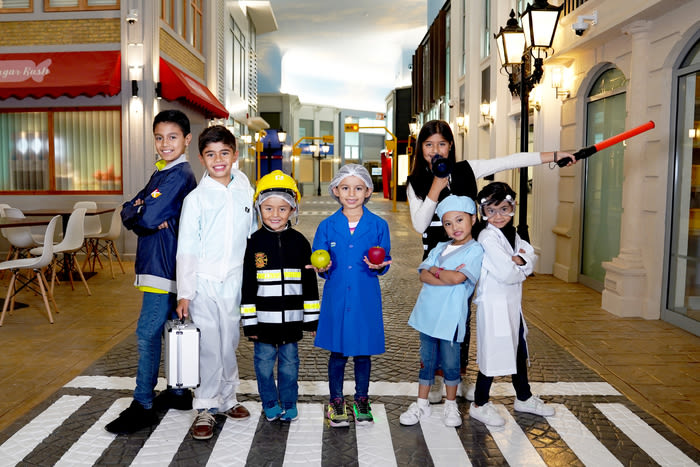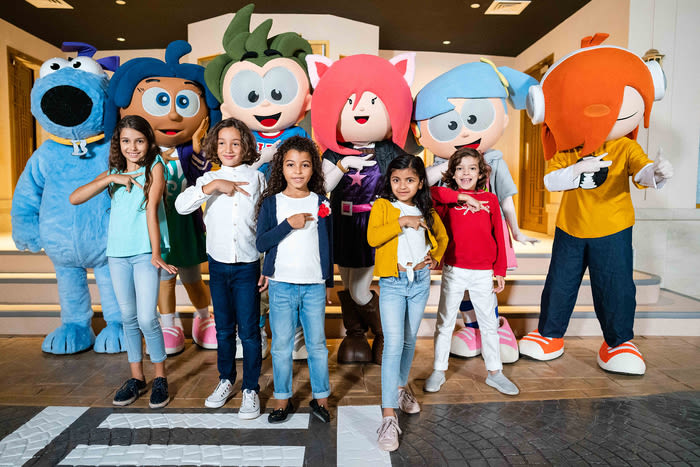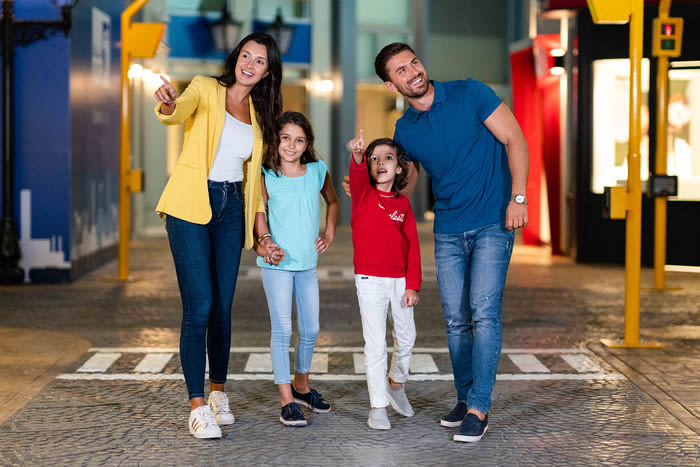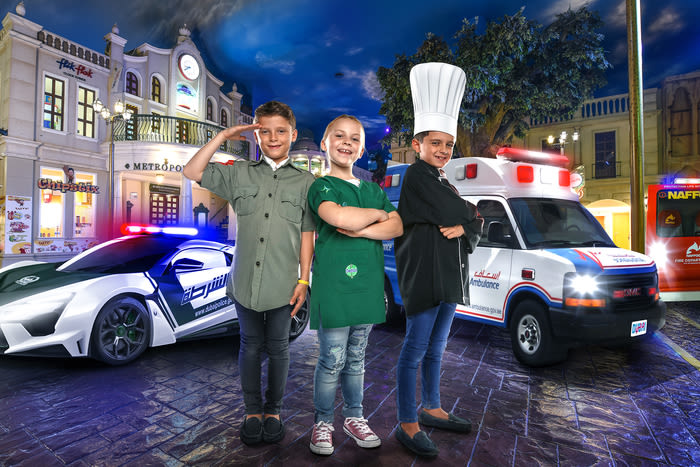 BUNDLE DEAL Kidzania Dubai Mall
dubai

, Explore The City
Limited time only!
Limited Offer! Buy Now before offer expires. Valid on all days weekdays and weekends except public holidays
10 AED cashback

Limited Offer! Buy Now before offer expires. Valid on all days weekdays and weekends except public holidays
1 Child + 1 Adult
Buy this deal now!
Kidzania Regular Pass for 1 Child (4 to 16+ years) and 1 Adult (17+ years)
1 Child + 2 Adult
Buy this deal now!
Kidzania Regular Pass for 1 Child (4 to 16+ years) and 2 Adult (17+ years)
2 Child + 2 Adult
Buy this deal now!
Kidzania Regular Pass for 2 Child (4 to 16+ years) and 2 Adult (17+ years)
It is a fun learning place which I would highly recommend. The kids earn and spend kidzania money. They learn & experience a lot of good things in those activities. How hard is to earn money & using their wise to spend it. They have flight stimulator, they can be pilot, doctors, vet, firefighter, policeman, delivery man etc. They actually experience the above mentioned things. They give driving test, get a license & then drive the car. They can learn how bottled water, juices, chocolates etc are made. For each activity they plus their money or for some activities where they have fun or they earn some other thing they get their money subtracted. All in all a learning place. On average you need to spend 4-5 good hours there to make the most of it.
syeda hasan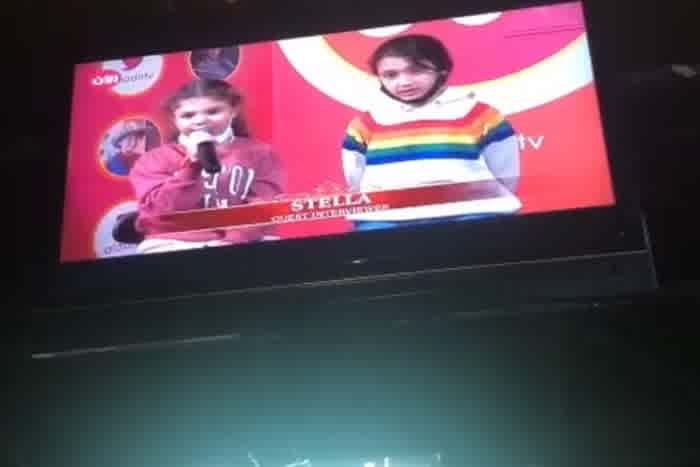 had a great time with amazing price
Rana Maalouf Farran
Kindly arrange facility to collect the toys from stores before closing the Exit gate . We can see many children waiting to collect the toys with points they earned in front of the toy store , unfortunately store staff informed the counter is closed (9.00pm) but there was a long queue from the exit gate where people has to wait for long. We saw children became very sad after earning all points and they could not collect the toys which they have hardly earn by visiting each hub and spending time . We suggest Kidzania to extend the time or close the store after all members exit. People who visited from far place let's say(tourist ) how can they come again and collect the toys , they may get chance only after a year, now for collecting only the toys again I have to visit?? Otherwise no fun for children colleting points .. Good place to visit with your Children and they can learn a lot. Neat & Tidy atmosphere .. Plan your trip to spend at least 5-6 hours ..
VINEESH K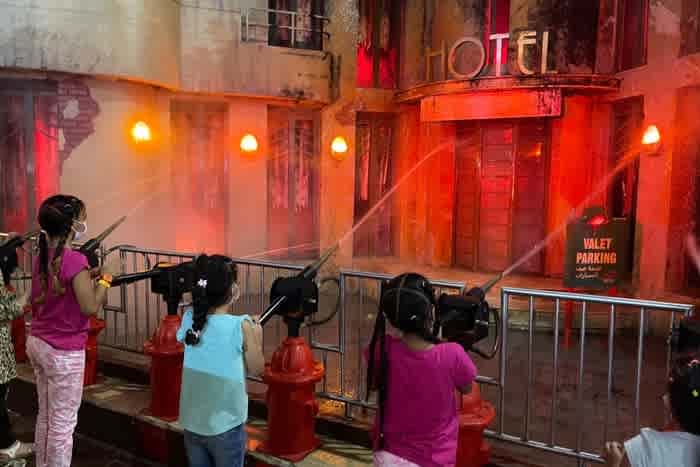 Both my kids enjoyed it, however, Air conditioning wasn't working, waiting time was very long in some activities and beyond what 6 year old can take.
Rayan
Our 6 & 4 year old loved it!
Kristen Coakley
My kid loved this place. She enjoyed all the jobs and got a gift. This is the best place for your little ones to discover the things that they will love. Really great place to learn, experience the actual work, earn and enjoy. Great place indeed.
Jida Hernandez (White Gloves UAE)
L went to kidzania last year and l get a passport from kidzana
Meera Majid Sharaf Mohammed Alalawi
FANTASTIC PLACE, BUT A BIT OVERPRICED, THEY SHOULD HAVE IT A BIT CHEAPER
BOBRICH HEAT INSULATION CO LLC
My son loved the place I recommend it for kids above 4 You can let them find their way inside and they'll learn to be independents
Om Hamed
I love it. It's much like kid heaven! I went there 5 times, and I still love it. Even children go to school trips there! I love the idea of Kidzanian Money! It's amazing!
Lojine Mohamed
Amazing place to explore your kids potential, and teach them the best lesson in life. My elder worked as police fire fighter dhl chocolate factory, danced, in the bank, changed tiers, construction, drove a car, attended university, worked in super marked, in Mcdonald, in pizza hut, anchoring etc. He gained some money and on the way out went to see what he can buy. The outcome was he could buy a pencils case. And that shocked him if that is same in real life. And when I showed him the cost of Hamleys toy and that it needs me to work 3 days to pay one he was surprised and understood the most profound question the value of money.
Walid Nehme
Our children loved this place very much. It s educational and fun abd it brings children's pretend play to a whole new level. Wish they didn't charge an adult fee as adults only sit around, but the overall experience is worth every penny. Highly recommend.
Maria T.
Lovely place ..my son usually enjoys it ... lots of activities were closed though and some staff wasnt so friendly
May Khalied
My son absolutely loves this place. There's a whole bunch of activities to make a kid busy. A whole day affair seems to fit the bill if you are looking to give your hyper-energetic kid a place to play. It's indoor inside the Dubai Mall. We used the Entertainer perks to avail the ticket and it was very much worth it. Definitely coming back. Would like to suggest going as early as possible as this place is fairly famous and expect a great crowd inside.
AVJ
KidZania provides children and their parents a safe, unique and very realistic educational environment that allows kids between the ages of four to sixteen to do what comes naturally to them; role-playing by mimicking activities done by adults in real life. As in the real world, children perform "jobs" and are either paid for their work (as a fireman, doctor, police officer, journalist, beautician, etc.) or pay to shop or to be entertained. The indoor edutainment centre is a city built to scale for children, complete with buildings, paved streets, vehicles, a functioning economy, and recognizable destinations in the form of "establishments" sponsored and branded by leading multi-national and local brands. KidZania also provides a separate area for toddlers to play in a safe and engaging environment.
Binu Samuel
Wow! Great place for kids!! And for parents :) This place inculcate the habit how to earn and spend money. And the kids have a lot of fun. Gotta work at various professions to earn kidzania money which you can spend to buy goodies or do some activities...
Rewela
This place is good for both the children and the parents, it really build a nice memories and bond, excitement to learn, experience and perform. The best experience a child can get in one places for many activities and jobs.
DrMaitha
Very safe place for your kids where you can keep your kids and go shopping.
Ahmad Obaid
A place where kids of all ages (up to 15) can experience all sorts of emersive experience. They can be pilots, doctors, radio anchors, chefs, fashion designers, models, and fire fighters to name a few. Moderately priced particularly if you get your children early morning and leave them for the full day there. You can enjoy a full day of shopping and relax at the various cafes and restaurants in Dubai mall knowing that your kids are safe, entertained and having the best times.
Spiro Kahwaji
Great place for kids. Inculcate the habit of earning and spending in kids and much more fun. Gotta work at various stores and professions to earn kidzania money which you can spend to buy goodies or do activities at some.
Wajahat Khan
Wish there was one of these in the United States. My 6 yr old daughter not only had so much fun but she learned a lot at the same time! Brilliant concept!
Jill Alkilani
an very good place to learn the children many things
Hatem Hawamdeh
Wow. Amazing kids play zone.Entrance a 360 view of dubai at top.VR bus ride awesome.even you can see a demo Burj Khaleefa upside down.
Renjithmanjoor M
Luvly useful place for the kids to just spend a whole day without their parents. A different world for them to experience the cozy world. the work nature. the different jobs in different places and the urge to gain points and the amazing part is the money of kidzania. My kids have treasured the cash and their id cards. Good time to spend around. Safe and friendly atmosphere. The crowd is managed and preffered online booking. The booking can be done through online and avoid queue on a weekend or long stretch of holidays and vacation.
Malarvizhi Aravindhan
Great concept... BUT overcrowded and unorganized. Big fail! You can get a fast track, but even with that you have to wait 5 to 15 minutes for each activity! You even have to wait in a que when you're exiting!
Fares Sayegh
It's really a nice place there are many jobs and work there and I think your childrens will like it
sandra chaar
It's really a nice place there are many jobs and work there and I think your childrens will like it
sakura haruno
Kids game arena, tickets are costly but worth a visit for kids , keep ample enough time for kids to enjoy
anish abraham
I have been here... it was my happy memory to came and payin many stuff like fireman. Pilot and many more
aboy Alimuddin
Do you like to see your kids feel happy and joyful? Make sure Kidzania is one of the best fun places your kids should visit
Mustafa Izeldein
My children visited this place yesterday and it is quite nice to make children busy and make some money to buy toys at the end . Well organized by queuing the childrens . When i signed up i were told there is only macdonald and pizza-by the lady staff whom we purchased our tickets , And offcourse the children can not bring their own food however i have my doughter , fussy and proudly healthy . I spoken to the manager who is named as far as i remember Ahmed He was insisting theirs is no food allowed from out side he is also limiting my children and trying to puch them into unhealthy choices like macdonalds and thats when i become very upset . I was bagging for a yougourt at least if possible to drop it for my toddler but no luck . He also suggested to come take your kids out feed them but also cannot return back !! I wrote the following masg to the kidzania suggestion webpage . : I suggest to provide a healthy snacks at your place , it sounds like you forcing the concervative healthy families by limiting their choice into 2 only macdonalds& pizza?? ? My children dropped very hungrey after 2 hrs of playing with no good choice of HEALTHY food. And please note you dont tell the families what's healthy or not ! They have their own point of views and all the right to choose , Fresh juice might sound good for you but it may not for my children even for one time! Please provide fresh fruits salads and yoghurt at least to be sold Not to forget the fossy kids or toddlers ! I got a phone call after i lifted the place with my children from a lady trying to explain theire is a healthy choices , yogourt an dfruit salad .. well it sound that they have bad management or some sort of miss communication and me with my 3 children the victim of it To be honest, the fun stories my children told me make me thinking to try again in the future but may be another brunch , but it was completely unfair to get your kids for short period when you payed full just because of being human been and HUNGRY for the right food
Um Me shoo
Been there once or twice. Quite good, it's not kidzania's fault they don't have parking. Well, its a good place to go once a lifetime
Hasnain Ali
Spent some quality time for my son. My son enjoyed lot and short of time to explore more for children.
MG Rajendran
As a kid i have admired this place cause in KIDZANIA you get to take up your favorite profession . You can become from a doctor to a aeronautics engineer , if you come here with your kids be prepared to spend a whole day otherwise its not worth your money . Its for kids till 16 years and i guess if parents want to go for a shopping and want their kids to be in a safe place and be happy this is the go to place . I rated it 4 star cause some of their profession taking up like fire fighter are just too kiddish and not a thing a 14 year old or even a 15 year old would appreciate , but its still a awesome place to visit , well the whole place aint totally depending on those 2 professions so no worries there is more professions in this place than you can ever think of, if parents feel they dont want to leave their kids alone there is a parents waiting room . So if you have come to DUBAI as a tourist please dont miss to go to this awesome place, its really worth your time. Please do come to thi place with your kids with ample amount of time to spend otherwise please dont come!!!
Peter John
Learning through role playing for children ,toddler and babies The staff well trained and friendly
Hamza Mouhim
It was good but my signal is on and off. Thank u KIDZANIA...😊😄😄
jackie khukhurutin
It was good but my signal is on and off. Thank u KIDZANIA...😊😄😄
benita vivian abusmas
My kid just turned 4 and we celebrated it here at Kidzania. His favorite jobs are being a pilot, a fireman and a medic. It can get quite overwhelming so it's better to prioritize the jobs you think your kid would be very interested in. Overall, he enjoyed it a lot.
icel candido
This is great for kids to get an idea about different jobs they might be involved with in the future. English is the language here.
Nasser
Parking is very busy at 8am. And it is hard to find a parking. I would like to see an improvement.
Mina Basta
The place is neat and would improve children ability to understand and apply some important principles before they grow up
Shahid Alhindi
AMAZING!! TRULY AN EXPERIENCE OF A LIFETIME AND INDESCRIBABLY VALUABLE TO CHILDREN'S GROWTH.. Encourages independant thinking and leadership and self sufficiency and is simultaneously extremely fun
Najwa Ali
What an amazing place for children! Being able to "work" in different industries and get a glimpse into what those people do is fantastic. The children were entertained for hours and didn't want to leave. At the end they banked there hard earned money for the next time we visit. The more they save, the better the item they can buy. Valuable lessons being taught!
Toinette Van Zyl