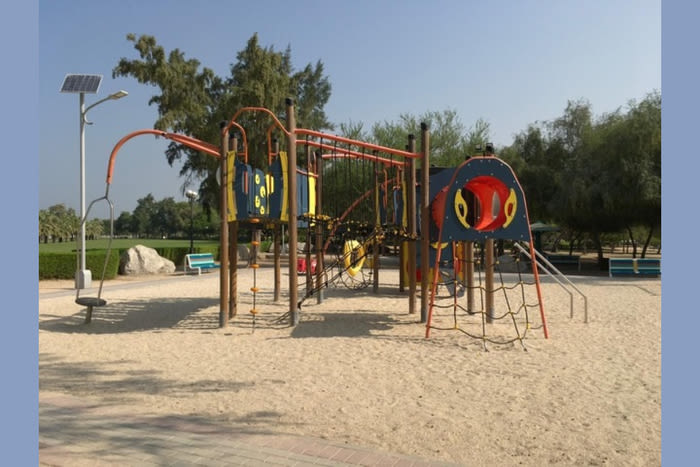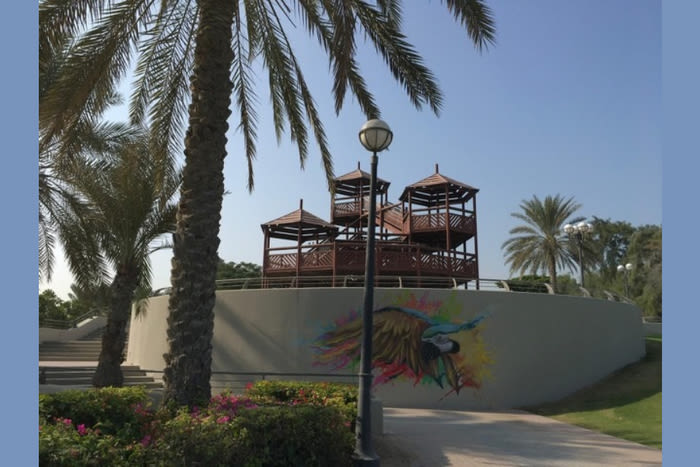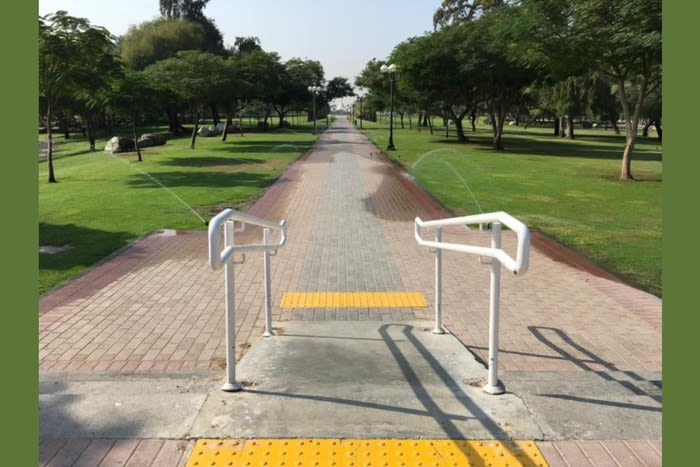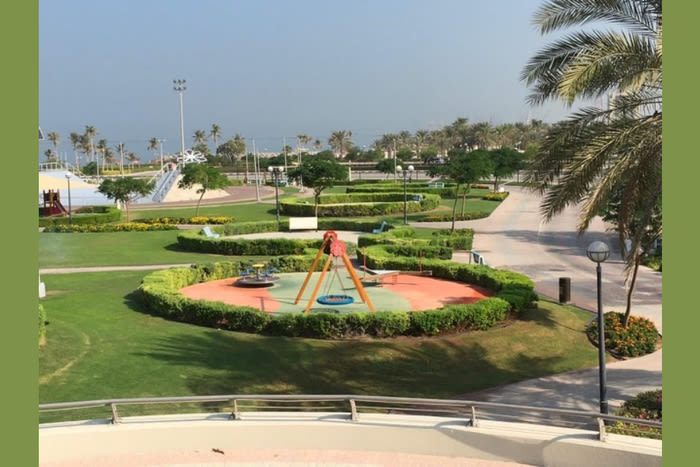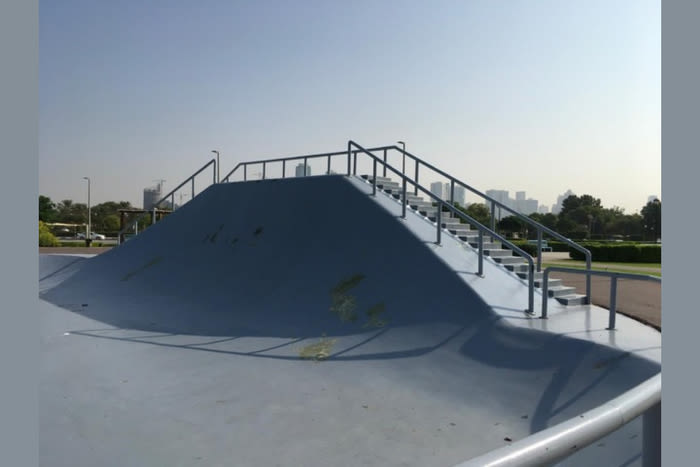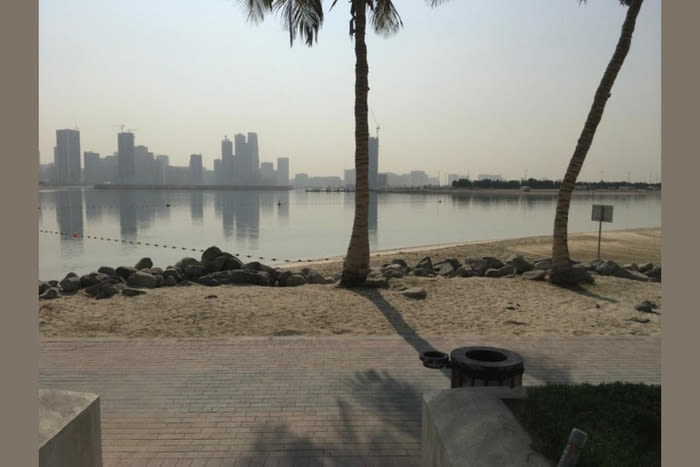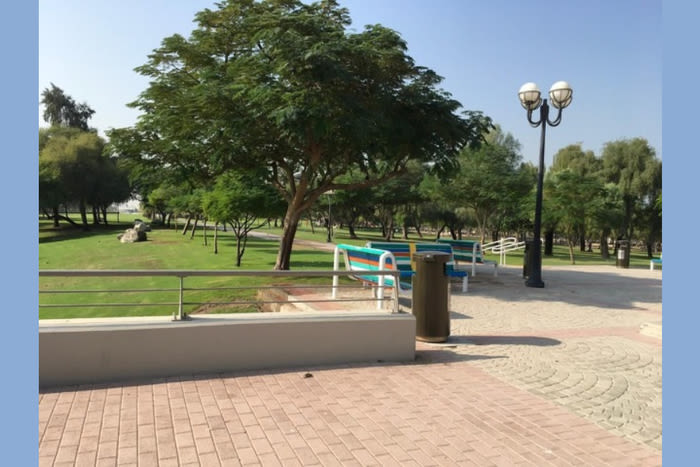 Al Mamzar Beach Park
dubai

, Explore The City
This is a family friendly outing spot. Perfect place for barbecue. Cemented table tops are available however practically you don't require them if you have your own complete barbecue set and chair. Ample shade of trees to sit. Ample dustbins and charcoal bins are available for disposal. Small playing equipment are available for kids in between to keep the kids engaged, however full fledged outside games can't be played as there are people all around barbecuing. For playing there are dedicated features available including skating area, swimming etc. The walk at the beach is also a nice experience. The general stores situated inside gets you various stuffs of need. The only problem is the long queue for entry into the park which may take half an hour. Overall a nice place to spend with family and friends.
gautam sinha
It's an amazing place to spend time with your family and friends. This park offers all what you expect, lush green carpets, open spaces, beach, designated BBQ huts, restaurant and shops, prayer rooms, rest rooms, showers open and closed, carts and cycles, well managed with cleanliness and security, plenty of play areas for children with swings and slides and other activities. The best place to visit for any age group. You can spend whole day out there to enjoy quality time with your loved ones.
Muhammad Zahid Siddiqui
It is huge park with a lot of beach fronts, ideal for families who have young kids, they will definitely enjoy the various play areas. There are places allotted for barbecue. It has an amphitheatre that looks amazing. Parking is not an issue at all, slots are available outside and inside too. Showers are available along the beach and sufficient. Change rooms and toilets are clean and tidy.
Ibrahim Moussa
It was fun. I enjoyed my time there. I didn't really see any places to buy food though, which would have been a plus. It's nice that there is some seating scattered around with shade but you should probably bring your own stuff. And there's no lifeguard if you want to swim on women's day. Or at least, there wasn't a lifeguard on our part of the beach.
Nabz Y
Here we can spend time with family and friends for a hole day and can have family fun in the beach (sallow and safe beach) and in the park. We can prepare barbecue at designated stands. The Authority is very friendly and they are maintaining this premises very well. Few cafeteria (small) available inside the park and plenty of washroom and dressing rooms also available. Good place to Spend a hole day with Family and Friends !!
Sudhakar K.S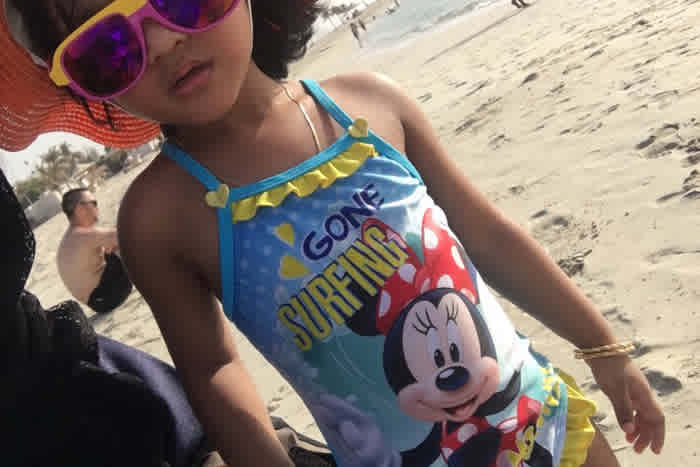 I love mumzar beach park . the clean and calm place if you love beach & swimming this is best place for your kids . as you know summer is on the corner should take kids for swimming just Thrice a month best beach and clean tooo my kids love there is pool too you can go there if you need pvt space
Bint_hindi Modern mama journey
You will definitely agree with me once you visit it. it's simply awesome place where you can spend whole day.. with friends and family.
Udaykumar P
Loved this park. Can do barbecue with well clean atmosphere. Beach is next to park. Can swim as well. I enjoyed always whenever visit there.
DXB ENTERTAINMENT UNLIMITED FUN
The best place to spend with friends and family in a budget. Barbeque, picnic, swimming in the pool or beach. Or Simply lying lazily on the green Grass.
Monina Alexandra Payad
Awesome place to hang out for peace and relaxation.. Worth enjoying walk along the beach side. Avoid weekends as it remains crowded and parking crunch is also there.. Best way to enjoy: pickup tea from nearby shops, and enjoy at beach side.. Ample sitting spaces available.. 👌
Shashank Singhal
This is a very wide and excellent park. There are many facilities including swimming pool are available. People can swing in sea also.
Arsal Usman
Superb beach park. Fully enjoyable. Good time pass. Nice family place.
P&H Network
One of the best places of Dubai. Literally a fantastic oasis far From the busy city. It provides skate park, beach volley pitches and beach soccer pitch. The ball has to be brought there. Bars available for food and drinks. 5 aed daily entrance or payable via nol card too.
simone bernasconi
Very family friendly and inexpensive. The beaches are less crowded than some of the others in Dubai and the water is calm. I recommend bringing a picnic lunch as the only food options are simple snack stalls with limited options. A lot of people come here to BBQ and use the park areas behind the beaches.
AB Heintz
I love this place. It's quite and peaceful. Away from all the rush from the city. Beach is exquisite. I love to spend all my weekend there. Perfect weekend destination.
Sana N
We have gone many time to Mamzar Beach Park. Inside one can enjoy swimming in beach. Do grilling. Kids can also play in park. You can also get a chalet for a day with advance booking. Public Holidays it use to be very much packed in with people. I suggest any one going avoid public holiday
Sijo Zacharia
Almost all age groups can enjoy in this park.. U can swim. U can bbq. Quiet areas. Lively areas and children play areas.... Superb environment
Asif Fayyaz
Superb venue with loads of amenities and activities. Helpful staff and reasonably priced carts to carry your load available at the main park entrance. I would've scored it a 4* but the bathroom needs more frequent cleaning - it was really awful and not up to standard.
N S
Superb venue with loads of amenities and activities. Helpful staff and reasonably priced carts to carry your load available at the main park entrance. I would've scored it a 4* but the bathroom needs more frequent cleaning - it was really awful and not up to standard.
nicole samuels
Nice place to enjoy beach. Clear water. Huts are available for Bar B Q. Best time to visit in week days or Saturday morning. You'll find very less crowd.
Ahmad Hasan
Good place to hangout and relax with friends and family. Avoid weekends specially fir day at it gets very difficult to find a parking spot. Park is clean. Beach is good. We went there to celebrate a birthday party. Food was arranged by a catering company.
Nishant pawar
Beach at the absolute south corner is simply pristine! Clean and clear water... absolutely my favorite. Rent a chalet if it's available...
suhail siddiqi
A good place to go for a walk, jog, barbeque, and spend some quality time with family or friends. The park gives access to the beach with shower and washroom facility . A quite place away from the traffic with a lot of trees and greenery. Some refreshment shops are also open with fresh juices, tender coconuts and snacks available.
Dilip C
Good We are going there more than 3 times per year It's good and fair price for renting chalets But the parking will be closed after 12 Because it's full The staff is mostly not kind at all Specially the one on the entrance gate Also now they close the chalets area at 9 pm Which is too early Also you for weekend you have to book and pay before a while Thank you for reading 😁😀
Laith Maisara
Its a good place, previously there were no lights here but now they have put some lights but not enough. It can be improved.
Anim Zahid
This is a beautifully managed place with almost all facilities including BBQ areas. The lush green park in connection with white sands and blue water are just mesmerizing. You can bring your own food or can purchase from inside stalls, cafes and restaurant. The entrance ticket for an adult is just AED 5 and free for kids under 3 years. Play areas for adults and kids are also available there. In short , its a must visit park for whole day pass.
awais sadiq
Serene, calm, makes you disconnect from the city. Thanks to the well maintained shower rooms & prayer halls this place is worth the entry ticket. 3-5 AED. Way too crowded on Fridays. Good place to barbeque as well.
Imrankhan Pathan
Brilliant place suitable for all ages and activities. BBQ swimming walking lounging children's play areas beautiful parkland with colourful birds.
Phil Tucker
It's always wonderful visiting Al Mamzar Beach Park. The entry is priced at AED 5/- per person. Has ample of place for all kinds of family activities including Barbecue. If you plan to go on the weekend, it's a good idea to be there early around 1330-1430 so that you get parking easily and also find a good decent spot.
Vijay Quadras
A very well maintained park by Dubai indeed. One of the few places where one can enjoy an outdoor BBQ. Must be early in the morning though to hold a place.
Yacoub Bseso
Beautiful park, clean and well organized. Lovely beach, lush surroundings and ample facilities. Barbecue area, swimming pool, chalets, ample parking and open spaces. Pretty crowded during weekends. You require your nol card to enter.
Mufaddal ABT
One of the most amazing parks I've visited in Dubai. Affordable entrance fee. Clean and huge park for picnic and for family, friends outings. Relaxing place. Clean beach. A must to visit.
Mariam Ahmad
For a 5 AED a ticket, this is an amazing picnic spot. There are a number of options to chill and picnic around here from the grassy park area to the sandy areas close to the shore (the beach is at distance of say 700-800m). Bringing your own food, cooking and having your own barbeque is allowed. On top of that you can bring your own wireless sound system for a great party and picnic atmosphere. However there are only a few food options available if you don't have your own food. There are a couple of softy trucks, grocery stores and fast food restaurants with outdoor seating in the central area of the park. I'm not sure if camping is allowed but a lot of families brought there own tents and the only downside was that although there are plenty of washrooms - they are always crowded and due to inappropriate use by some people - they are not very well maintained and unhygienic in some places. The beach is well maintained and so are the park areas. But the lighting along the streets at night could be a little brighter. Overall a great value for money experience! Recommended for office/ family parties.
Atrayee Chatterjee
It's a nice park with a lot of grass and it also has a beautiful beach. It also has a buggy service which is good but only one in the whole huge park. It's a nice place to have picnics but there's a bit less place for people to play cricket or football because there's people all over sitting under a ton of trees. Moreover, it gets very dark in the night so I think they should add more lightpoles.Another negative point is that they only have one main entrance for the massive park which makes you wait in line for a long time. Some of the positive points include that they have a nice restaurant and canteen in the middle of the park which is a bit expensive but serviceable. They also have cool go-karts that that you can rent and ride along the beautiful beach and pleasant park. The also also have an indoor arcade gaming area which has its own canteen. Overall it's a splendid place for a fun family picnic.
Rehan Hussain
Beautiful park with clean beaches. All facilities are good. An ideal place for spending time with family and friends on a weekend.
Bhuvnesh Rathore
The park has really scenic beaches and good picnic spots. It is ideal for spending a relaxing day with family and friends here. The barbecue spots are adequate and well equipped. We had a great time barbecuing with family after a wonderful dip in the sea.
Senthil Kumar Arumugam
Nice park for both families and singles. Clean and beautiful trees. If you are planning to swim, avoid windy days because the beaches will be closed. No swimming after sunset whatsoever.
Refat Shalghin
Lovely place to enjoy the park whilst near the beach meet or see people inside the vicinity and it has also a food court inside the park. You can also drive your car inside the park which is pretty convenient, but be ready for a traffic when it comes too crowded inside to top it best beach park.
Jason Reed
good for family. lots of activity to do inside. attached beach is just awesome. parking space is good. very limited number of toilets. no options for food inside. good for picnic and gathering. timing is very good. 5 AED entry fee must be removed
Shaheen Mohd.
Been there last week, very good park attached with beach. Very well maintained trees and plants. Nice public swimming pool (paid). Signage and guidance from staff are upto the mark.
Jebakar Thomas
Perfect beach especially when it's not crowded. Clean, safe and family friendly. Love the new way of accessing park using #NOL card. Very convenient...
Kuminda Chandimith
Mamzar parks is covered huge area, which includes beach views, children play areas, swimming pool and Barbecue making places. Many visitors come and make Barbecue on the weekends and enjoy the park gardens. The perfect place for children to play on huge park area.
Anil Reddy Ponnapati
Huge green space, great beach, very well planned. Neat and well maintained. Stand out was cleanliness in toilets where other parks usually dont do well.
Mazher Shaikh
Very nice park for family and groups. Lots of areas for kids to play. Outdoor barbeque options are available. Small convenient store available here.
Sachiin Sharrma
Perfect family outing destination. Good beach. Good play area. Good gardens... Nice restaurant. Fun place. Avoid holidays.... Its over over crowded. May be they can make one or two beaches - family only beaches... Even during weekends and holidays.
Prapti Majmundar
If you like outdoors, you will love this place. The beach is cool, and so is the park. We've always had a superb time here. Great for outings, team building retreat or family activities. You may be disappointed by the heat though if you go during summer.
Gladys Wambui
Amazing beach if you plan to tan or relax. It has many features, it has kids play area, small shops, changing room. Green area with beach in one place. One of the things to keep in mind it has ladies day for comfort of ladies and Muslims. Which is Monday and Wednesday and no men are allowed to enter the park!
Farima SFQ
Excellent place to spend winter days with the family. The beach is small but clean and beautiful. Gets very busy during holidays so it is better to arrive early (before 10am) to get a good spot
Parvez Fattah
Awesome place for picnic and outdoor activities. Has plenty required facilities, which is good. Nevertheless u need to have a car to reach there
Ilya Nagorniy
Awesome swimming pool experience and a family picnic place. Never go on public holidays as you never find a place in the pool. It will be too crowded. But other days it's a fun filled swimming and picnic. Kids will love it for sure.
My Big Family