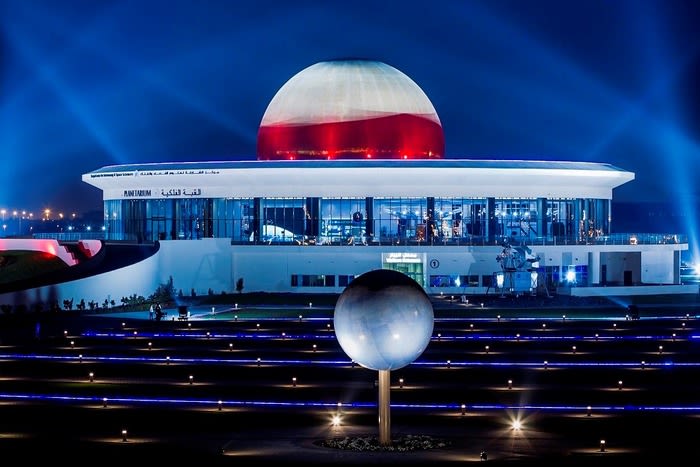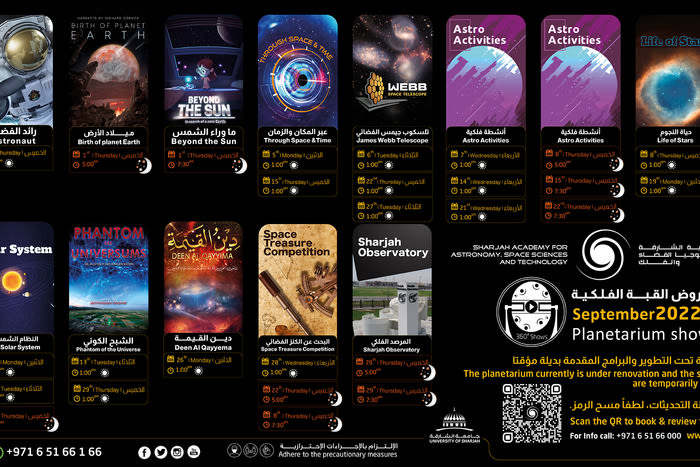 Planetarium Shows
dubai

, Explore The City
Wow, an amazing place for kids. Apart from the planetarium show there are so many interactive science exhibits for kids as well. This place looks small inside but will definitely take a lot of time to explore all the science exhibits. The planetarium show is fr 1 hr and kids below 2 aren't allowed. AED 22 for adults and AED 11 for kids. Lots of parking available.
Suheb
Wonderful, must visit place.. my kids thoroughly enjoyed especially the interactive stuff.
Jazeer Musthafa
Trying to call the number above but unfortunately no one pick up the line, several times trying to contact them but no responses, the timing for the visits and showtimes are not available,,, very sad to avoid contacting clients this way 👎🏻👎🏻👎🏻 I think it's better to try Twitter for more response
sara alali
The museum itself is great, so much to see and do BUT please call in advancebefore going. Timings are incorrect. There is even a stand outside the gate that says open at 8am but it does not anymore. We were turned away and told they now open at 12.30pm!!!
ABIGAIL BURKE
Very beautiful place design by architecture if you go inside you can see the every single star in the universe and too much knowledge about stars this is very big library I am seen.
Cmsc4india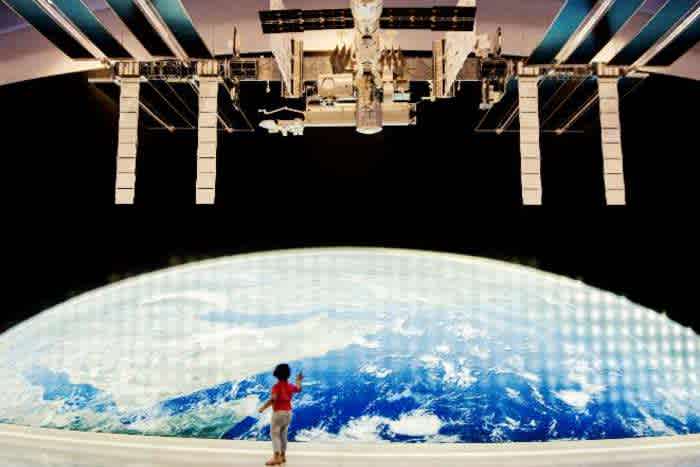 A great place for kids who has an interest in astronomy. Though my daughter is too young to understand she enjoyed running around exploring the various games and space stations. This place is beautifully setup. Do try to visit them on Saturdays as they have shows at 5 and 7 or so and in weekdays they close early.
Neelima Azad
Great place in Sharjah. The planetarium shows are superb.
Saikat Rudra
Maa shaa allah. Very informative. Must visit with children. Subhanallah. Very nice.
Abdul Samad Esmail Pathrathota
this place is really soectacular for spacebuffs....the kids loved the show and also the gadgets related to space were creatively made so the kids had fun at the same time....
Yumna
amazing place and great location. very informative and an interactive way of learning for the kids. best time to visit would be December to march to witness also hundreds of migrating birds that flocks in the vast greens of the place.
dhen payot
This is a must visit place in sharjah. Their planatarium shows are really good and informative. Kids under 4 is not allowed inside the planatarium. Adults ticket is dhs 20 and kids is dhs10. Show is at 1. 00 pm sunday to thursday. Itz always better to call them and confirm the timing before going.
aysha nida
Very informative and their shows are worth watching. Kids Will enjoy this place.
Abdul Rauff
Amazing experience. Must visit with kids. Virtual show will take you to Galaxy and beyond that. Very informative.
Sooraj Surendran
Lovely place to spend some time with children. The kids can have fun learning about space and get a chance on hands-on learning as well. The shows are an hour long. There are multiple shows so make sure to call ahead to know which show is being shown.
Parvez Fattah
It is a must to visit place in UAE for those who are fascinated about the Solar system / Universe and even for those who want to learn about the stars and our universe . We visited on Saturday and were lucky to attend two shows. Both the shows were well presented and very much interesting and clear to understand. In exhibition area, there are many space science related experiments are available where we can get the answers of many "Why", "How", "what" questions. Overall it was amazing experience..!!
Madhukar Kharat