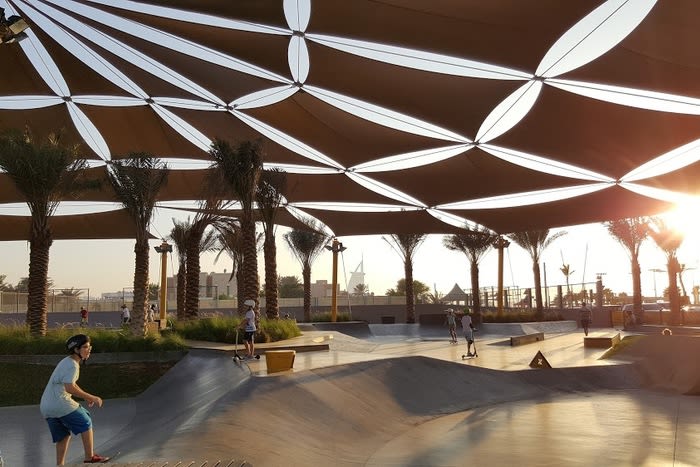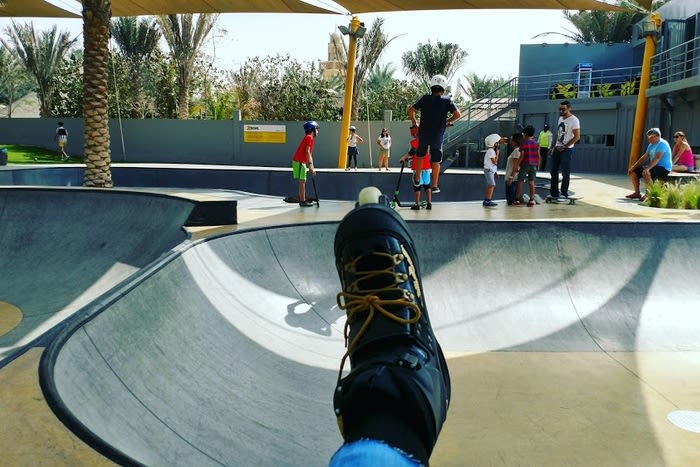 XPark by Etisalat Kite Beach Skate Park
dubai

, Explore The City
One of the best coast lines in dubai It also has a park nerby.
Nouman Tariq
It was a good skatepark deginetly high quality but this is made for more advanced skaters so beginner should avoid this park, I wouldn't PERSONALLY say that it was fully worth 45 dhs especially if you can't skate mostbofnthe things their but probably the most famous thing at xdubai is the Xbowl which is absolutely huge, advanced skaters will love this skatepark
Shahid Roshan
Well designed for both scooter's and skateboarder's. People from different level can also enjoy their hobbies!
Timo Teimonen
Why they don't answer the phone????? The line always OFF A lot of questions are without an answer on website ANSWER THE PHONE 📞📞 PLZZ
Jafna Ismail
Excellent service from the guys that are there. I love taking my son here and he loves going.
L G
A world class skatepark wasted on kids with scooters and an extortionate entry fee. This skatepark could've been a haven for the actual skaters, bladers, and bmxers living/visiting Dubai (akin to Venice or Bondi beach in my opinion). Sadly this is not the case, and it is clear that management is more focused on making quick bank on kids rather than supplying the extreme sports community with a great spot to hang out. Nonetheless, the features are awesome and the skatepark itself has a great flow. The place is situated in an amazing location just by the beach, so a session with the sunset is nothing but tranquil. I would recommend anyone to visit the place at least once, but further than that it's not worth it.
Almo Kabi
Staff are very helpful and the ramps are great for all skater
Joseph Murphy
Top park ! Nice people ! Find myself on instagram @christopher.fenton to follow the world trip ✈️
Christopher Fenton
Really peaceful & tranquil. Beautiful place to escape the heat. Lots of little coves and areas for children to explore and play in, and a variety of things for them to do. We were impressed. There is also a petting area where kids can see tortoises, birds, rabbits, chickens and a pony. There are about four water play areas as well, which means you can do this outdoor activity for a bit longer into the summer. The staff are all very attentive and friendly. Great experience and fond family memories formed. Highly recommended.
James Pardoe
This is by far the best play park for toddlers that Dubai has to offer. The restaurant is also pretty decent and it's quite affordable to bring the whole family. One free adult per kid. It's a pity the summer is around the corner.
Stephan Botha
Favorite place of my son but costing me AED 45 on each trip, bit over price though
Abdul Mateen
Open beach very nice and safe place for outing wifi also available and after swimming clean water also available.
Nauman Mustafa
The park made for skaters by skaters, XDubai introduces the dynamic 3100m2 skate park set on an ideal beachfront in Kite Beach. It's the largest multi-faceted facility in the UAE, with skate areas for novices through to professionals. Being XDubai's first foray into the development and sponsoring of community activities, the park was built through consultation with professionals in the skating scene. Together with Convic - specialists in the design and delivery of skateparks around the world, we now have a facility that offers opportunities for all participants and visitors, creating a central community hub for competitions and social opportunities. FEATURES For beginners, we have the low profile skate plaza with unique street elements and transition flow areas containing banks, blocks and quarter-pipes seamlessly connect to create continuous skate runs. For the seasoned, we the central space of the plaza which has obstacles including ledges, banks, steps, vert wall, rails and pole jam and a space that allows us to host large events. The skate bowl is the biggest feature within the park. 3.2m deep with a 2.1m shallow end it rivals some of the world's most difficult bowls. It will provide a challenging skate environment for more advanced and intermediate skaters to perform ollies, kick flips and aerial grabs. 2 Bowls – Mini Bowl is 1.2m deep and Pro Bowl 3.2m deep with a 2.1m shallow end 11 bowled corners 3 flatbanks 1 crater Street elements – 2 hubbas, 1 up-down rails, 1 kicker to flatbank, 2 kicker to hubba, 1 kicker to kicker, 1 pole jam and 1 suspended wall. 29 obstacles in total Scooter and skateboard rentals available – AED 40/day
Nisar Balhro Sindhi
Awesome facility, clean, well managed and very safe to leave the kids. Need to put a small cafeteria for light food and drinks.
Mike Morgan-Evens
Great place fun obstacles needs a bit of wax on the ledges but other than that thus place is exceptional
Jesse SD
Great place fun obstacles needs a bit of wax on the ledges but other than that thus place is exceptional
Jesse Ryan
Great, I'll visit again soon inshallah...
Fatin Elwakeel
It's good for beginners and advanced Professionals. Very good.
CAD MAN
It's good for beginners and advanced Professionals. Very good.
Cad Man
Amazing skatepark but can get a bit busy.
Andy Irwin
its an awesome place to gather around with friends and learn new tricks
Hamad Essa
Skating enthusiasts are very welcome here. Even if you don't own a board, you can rent a skateboard or a scooter for a fee. Lots of children and teens use the park especially on weekends wherr the place gets crowded, so take caution while skating.
Tamara Monet Pongan
Good fun for the little ones...entry fee amd scooter rental charge applicable...entry fee of AED 35 and AED 40 for the scooter...
Muhammad Sheharyar Khan
Kids enjoyed a nice time, practicing skating in the park.
Haytham Ayoub
Lovely place to spend time with family and friends
Hussain Khan
X Dubai skate park is a purpose built facility for all the x sports enthusiasts and aspiring kids . Only skate boards , inline skates , stunt scooters and Bmx cycles are allowed inside premise . They recently opened an X shop to rent the gears in case you don't own . Initially the entry was free but now they charge AED 35 for a day pass .
Xam Ir
Really good skatepark in Dubai, different pool sizes, vertical drops and rails. From begginners to pros. Near the beach and restaurants. It is a must for the skate lovers, or just those seeking some adrenaline.
VientoViajero VV
Excellent facility and in the winter months, very doable temperature-wise :)
Martin Adams
Beautifully perfectly build skatepark. Watch out for scooters
Tarek Seifert
Great skatepark good location as well. Kids time is until 12:00
TheOfficialPickles
nice beach with a lot of close by facilities such as fast food tracks...
Ali Amine