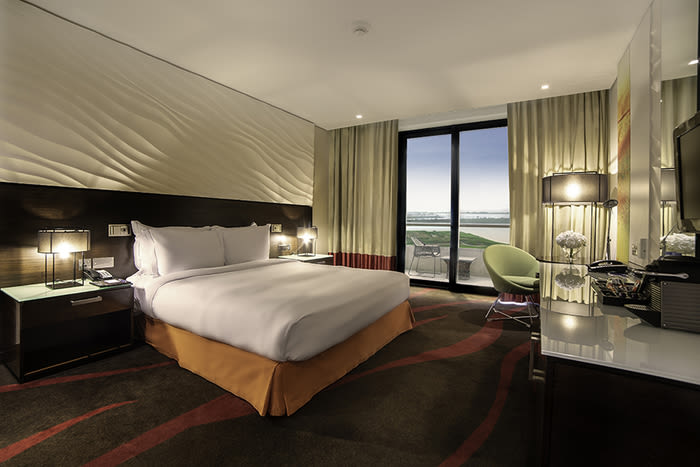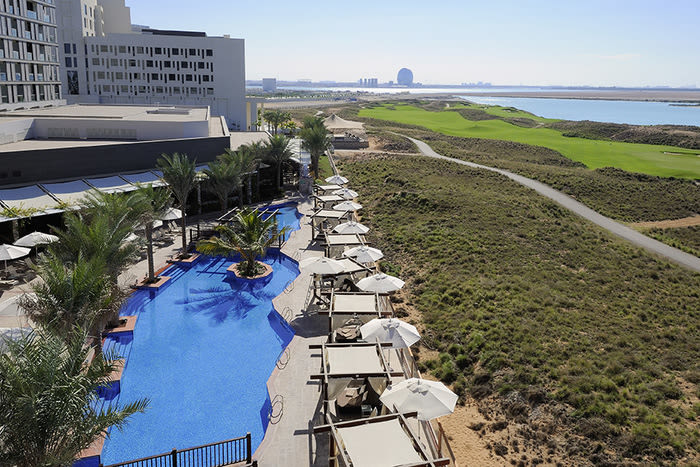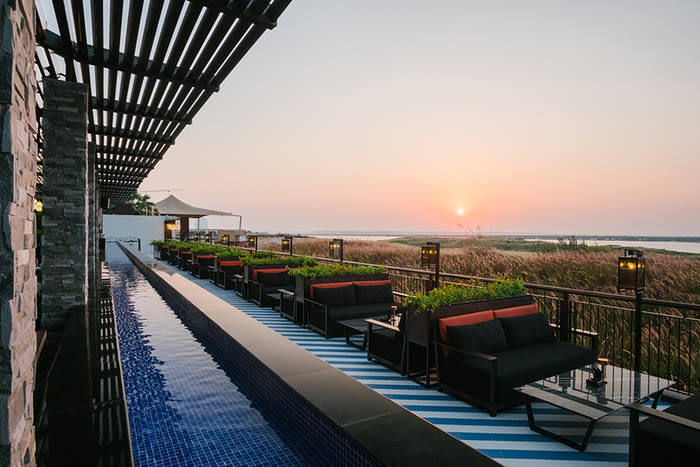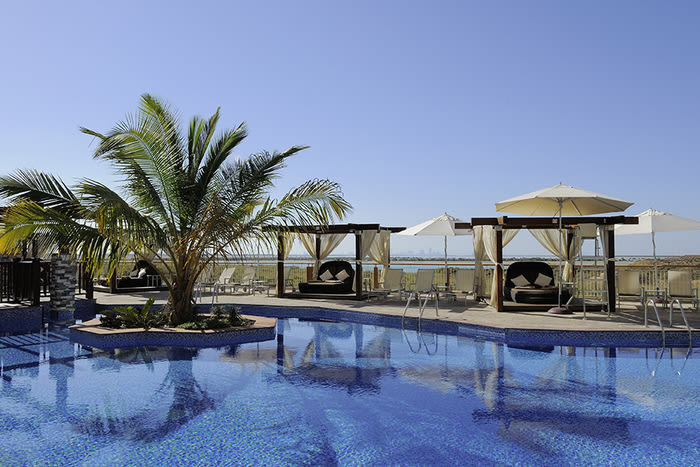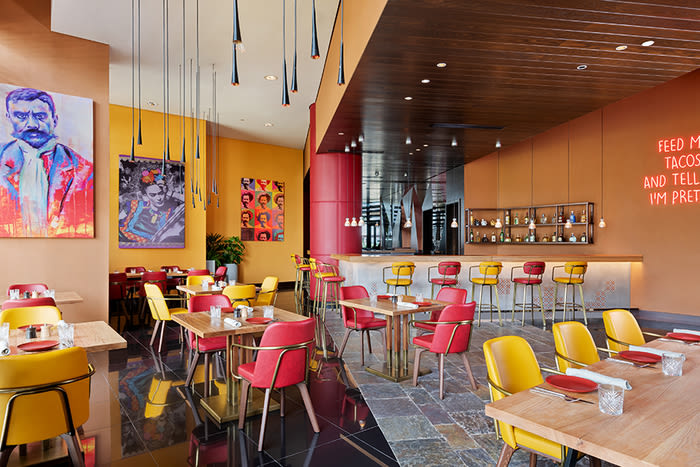 Staycation at Radisson Blu Hotel
abu_dhabi

, Explore The City
Limited time only!
Grab this amazing deal. Book a hotel staycation thru QiDZ! Offer valid until 30th July 2022. To check the availability please enquire below or call +971 52 772 9226.
100 AED cashback

Grab this amazing deal. Book a hotel staycation thru QiDZ! Offer valid until 30th July 2022. To check the availability please enquire below or call +971 52 772 9226.
Standard Room with Breakfast - Minimum 2 Night Stay
Buy this deal now!
Price per night 1 night stay for 2 adults + 2 child below 12 years old. Minimum of 2 night stay to avail the offer. Breakfast included. Complimentary Park Access: 2 Night Stay (2 Day Park Access)
We went for a day stay at the hotel from 9am to 5pm and it was nice. The check in process was a bit long because they were under staffed but outside of this it was a solid hotel. The pool area is quite nice with canopy beds and curtains to help with shade from the sun. They have a pretty simple menu for food and drinks to enjoy by the pool too. Right outside of the pool area is a nice golf course and then great views of the water as well. It is a very family friendly hotel and nice restaurants within walking distance of the hotel.
Jamal Blackwell
A 4* hotel with reputation. However, it's an old-fashioned culture for a hotel in Yas!! The rooms are not great; but, the balcony view was awesome. Breakfast was not well done. The pool entrance is through the reception hall and the biggest shock was watching people going to their room in towels right in front of everyone! Guests will get a free access to the Yas beach. There's shuttle service to and from the beach. Be sure to get a shuttle timetable at the time of check-in. Our overall experience was okay!
Krishna Rakesh
We had booked in a nearby sister hotel and, for good reasons, were asked to swap to the Radisson Blu. Best decision we've made for years! We were upgraded to a great suite with a fabulous panoramic view of the golf course, city and the Gulf (all of the pool facing rooms have the same view). Our rate included breakfast in the hotel restaurant which served a vast range of food - and our eggs (fried, poached or scrambled) were freshly cooked by the outstanding chef. But, by far the biggest attribute of the hotel is the staff. They all were unfailingly polite and helpful; nothing was too much trouble. Particular mention has to be made of the young lady who booked us into the restaurant every morning and, on the one occasion that the restaurant was packed, went out of her way to help us. She was unflappable, polite, attentive and friendly. A real asset to the hotel. In a great location on Yas Island, it's easy to get around and local taxis are very reasonably priced. There's no downside to staying here - it's great!
Nigel Young
I didn't like it
Khalid Huraimel
Really bad treatment for clients and guests... better options in Abu Dhabi.
Antonio Alejandro
Hospitality personified......the staff is courteous and exhibits warmth. Concierge Imran is your saviour for most of the tourist attractions nearby....advice given is absolutely useful. The shuttle service is a bonus and rooms are very comfortable. The front office staff and housekeeping guys are polite and welcoming. The restaurants boast of lavish buffets...we experienced breakfast and dinner found them to be very elaborate & sumptuous. The health club and swimming pool are contemporary and extensively frequented. A memorable experience
Tarun Kumar
me, my auntie and friend book here in business class suite. well i love the big spacious rooms. Very nice and accommodating place. My room overlooked the pool and the view was amazing, you will view some camel outside and the golf field....their spa is also nice with their sauna and whirlpool... Great breakfast and friendly staff... it just that in cleanliness and maintenance needs some improvements... I HOPE MY REVIEWS HELP YOU. PLS DON'T FORGET TO CLICK LIKE OR HELPFUL .you can also contact me for more details you want to know about the place ... THANK YOU
charlotte april angalao
Stayed there overnight for my connection flight. During check-in I've got an upgrade to a better room free of charge. Room was clean, staff was very friendly and food was good. I will stay again. Thank you Kola and your colleagues for this nice but short visit of mine.
Timucin Ozger
Wonderful rooms, extremely clean, comfortable and welcoming. The balconies are not so spacious but they have nice views. The swimming pool is so beautiful and the warm decoration around this area take you far away. I highly recommend enjoying your dinner around the pool area. The breakfast buffet is very organized and offers a wide variety of choices. You can also enjoy the beauty of Yas Island taking long walks, bicycle rides and visiting Yas Mall.
Mohamad S Al Shamaa
Friendly and helpful staff. We had a nice family room with balcony overlooking the pool and golf course. Free tea, coffee and water in the room. Plenty of relaxer beds around the pool (which is the temperature of a bath 😊). Incredible choice of food and drinks at the buffet breakfast. Several restaurants to cater for all tastes either at the hotel or next door at the Park Inn
Marcus Frost
Location: near to Yas Mall, Yas water world, Ferrari world. Parking: Excellent Reception: helpful and baby friendly Concierge: Very good Lobby waiting area: good and clean, but very limited seats compared to number of rooms Lobby restroom: needs fixing and cleaning Elevator: clean and spacious Room: needs to be neat before guests arrive. Bathroom: toilet and face mirror needs fixing. Bed: sheets and covers were dirty. View: beautiful balcony with pool and beach view Room service: take time to response to guests needs but excellent and quick once they arrive. Restaurant breakfast: nice food but very crowded. Pool: too many people couldn't used it. at night quit and the view is lovely, but the water needs cleaning.
Afra AlSuwaidi
Good for short stay. Its located conveniently in Yas, just outside Abu Dhabi, making it easier to visit the city. Hotel provides a shuttle and beach pass to near by Yas beach club. You can drive to beach club as well, there is plenty of parking outside the beach club. Hotel is next to the golf club and near mangrove. Rooms are comfy with basic amenities and staff is nice. Pool is too small, it was full all the time during our weekend stay. F&B at hotel is bit pricey for what is on the buffet, F&B prices at beach club are fine.
Munish Marya