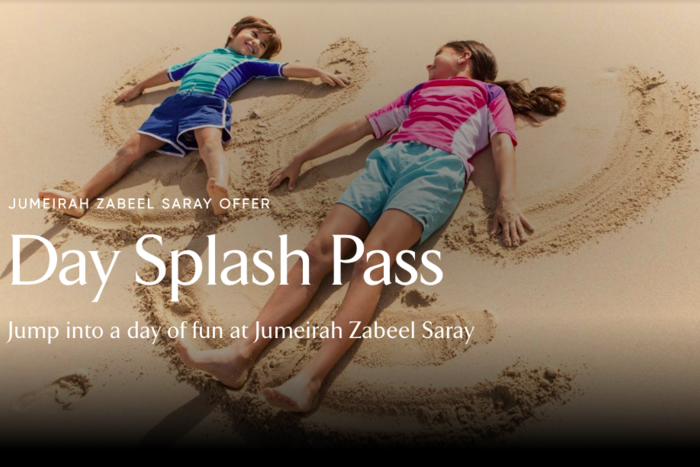 Pool & Beach Day Splash Pass
dubai

, Explore The City
My wife and I had an exceptional experience at Jumeirah Zabeel Saray. Our room was beautiful, the view outstanding! The restaurants, facilities, beach, and grounds are exceptional in all regards. And as you will read over and over again, although the beauty of the hotel is above comparison the Hospitality is even beyond this. We celebrated my wife's birthday and every special touch was appreciated. Whether you are traveling for a special occasion or it is your 1st time in Dubai, this is the place to feel and be treated as royalty. We have been very grateful to have traveled to many beautiful countries and have stayed in everything from a humble, tiny 1 room flat to grand Palaces but we have a special place in our heart for Dubai and Jumeirah. Thank you for the wonderful memories, peaceful atmosphere, and exceptional accommodations. WSDamsio
AAA CENTURY
We bought a seasonal pass, and we are happy with the place. Beach club is very good, hamacas very comfortable, and beach is nice. Beach restaurant is very good, nice food and wide menu. Staff is very helpful and smiling. Only one thing can be improved beach restaurant is closed after 19, and they don't have any other lounge area quiet and relax after this time. We went to grass area, but not that comfortable and and few option in menu. Besides the bier were not cold. They should keep open the beach restaurant.
Eva Marin
This place literally defines Richness, Class and Royalty. You feel like you are an Emperor when you stay at this place. This place is grand and Majestic. Service is top notch. Food is delicious and wide variety is available. You have shops of top brands within the premises. There is a pool, Gymnasium and a beach in this place. A perfect place to enjoy your holidays with family and friends.
JEETENDRA MAKHIJA
Incredible experience, treated like royalty at this stunning hotel. It was our anniversary, and the hotel did their utmost to make it truly memorable by spreading rose petals in our room, sending fruit and chocolates to our room. The staff members always had big smiles and warm sentiments throughout our stay. Will definitely stay here again.
Naeem Adam
Great place, as a platinum club member i can't recommend it enough. Stuff is super friendly and well organized. Pool and private beach are amazing. There are plenty of sunbeds, kids poll and 59m swimming pool for adults if you like to work out a bit. Stuff will take care that you always have cold water in an ice bucket for free and if you want to treat yourself there is an open restaurant with a great variety of beer and food.
Tihomir Savic
Nothing really to say except for 20/10. Stayed here for 4 nights as the last destination of a 5 week holiday. This ended my trip perfectly. From the extraordinary service throughout all staffing sectors, to the cleanliness, to the amnetities. I could search all day and not find one negative thing to say. See you next year.
Natalie Novic
I have never stayed at a hotel with such attentive staff! From the first to the last second of my stay they made sure everything was perfect. There was a little screw up with the room we booked being "subject to availability" which was a little odd. But they did their best to sort this and gave us a similar room. The food here is amazing and if you book half board you get a choice of all the amazing restaurants owned by the Jumeirah franchise. Would 100% recommend, and is the best hotel if you have kids due to pool size and entertainment.
Ella Jackson-Taylor
It's a spectacular hotel that goes the extra mile in providing luxurious comfort and incredible food. The hotel is very international, welcoming couples and families from all over the globe but with its vast spaces and number of restaurants everyone can find something to suit. The staff must be hand picked for their incredible diligence and warmth. Nothing is too much trouble. If you have allergies and you warn them they'll do their utmost to cook something special for you. At every meal time in the buffet (one of the many restaurants) there is a mind blowing choice of dishes from all over the world. The pool area is vast with many sunbeds and shaded pool areas for children and adults who find the sun too much. Ice lollies, towels , bottled water , and water sprays are free and plentiful throughout the day round the pool. It's a great place for kids as there is a kids club . Do check that the room configuration offered by your tour operator is available. People did seem to have problems at check in with the number of size of beds in a room.
Jane Taylor
What an amazing place, breath-taking, so luxurious with a modernized Arabian decoration theme. Inside the hotel there are a few luxury shops as well. As for the room service food, it was a mesmerizing experience, the presentation, the flowers and the taste is mouth-watering.
Mohamad S Al Shamaa
Perfect 5 Star Property. We requested for very early check-in, and our request was granted. Rooms are huge, breakfast is like King, many amenities to choose from. Great Zabeel Saray. Great Dubai
Shalin Shah
Othman ambiance with excellence in every details. Service level is really high and facilities are joyful to use and well looked after. You can't go wrong choosing to book your stay at this wonderful resort.
Emad Mousa
Nice and spacious. Excellent service and helpful staff. Check in and check out were smooth. Rooms are very spacious and comfortable. Worth every penny spent.
Khalid Shamlan
The atmosphere is incredible. I feel like a Saudi Prince. The staff are very attentive to the guest's needs, no matter how trivial or large. The rooms are to die for. Definitely worth considering on you next trip through Dubai. Private beach, pool, incredible spa. You name it. Top of the class.
William Baikie
Amazing hotel with good wheelchair access. Sauna was great and had a fabulous facial. Food was good and Jumeriah Flavours allowed access to other hotel restaurants in the group. Staff on the beach helped the wheelchair on and off the sand which was also very much appreciated.
Mohammad Omidvar
Gosh I'm speechless! What a stunning place to stay. We booked a club room and it gave us lots of extras well worth the money. Staff so helpful and caring. See you soon x
Pete
This visit is our tenth time at Zabeel. Great pool and private beach, lovely staff, excellent restaurants. Upgrade to Club Lounge for amazing breakfasts and unlimited fizz and sushi 6-8pm. Highly recommended.
Duncan Park
Great infrastructure, very good service and smiling staff. Pool and Beach area are nice. Client services works well.
Marco Caruso
Ah, jumeirah! They take the simple and make it grand, the mundane and make it luxurious. We spent the weekend there as we were celebrating my parents anniversary. They went above and beyond to get their rooms ready with a small surprise, and the rest of us were not forgotten as we each received a little extra sweets for our rooms. The rooms were comfy, the beds cloud like and the views spectacular. Only 2 things bothered us on this trip: 1] babies in the room next door that kept yelling and 2) the lounge was on the other side of the hotel and not on the same floor we were staying on. Other than this, an amazing stay and definitely worth repeating.
Ghi Sa
Such a lovely hotel, I would defiantly recommend. Really nice staff and amazing service, whether you are at the pool or at dinner. If you travel to Dubai, Jumeirah Zabeel Saray is where you should stay!
Pauline Lowe
مكان ممتاز على الطراز العثماني القديم يوجد داخل نخلة جميرا خيارات كثيرة للجميع للعائلات الجلسة الداخلية ممتازة تصلح ايضاً للاجتماعات الجلسة الخارجية تحوي على شيشة وكحول مكان هادئ ورائع لمن يحب الهدوء انصح الجميع بزيارته بالنسبة للاسعار الطعام والشراب تعتبر اعلى بقليل من متوسط الاسعار في دبي ولكن تستحق بالنسبة للفندق فهو الوحيد في دبي الذي يحوي على بانيو كبير جداً في دبي
wael ajam
Beautiful place, staff are very professional & food is great, loved the idea of cinema. Unfortunately we couldn't enjoy the cinema because there was no air conditioning. We complained many times about air condition in reception area, cinema and restaurants. The worst thing than feeling hot is noticing the staff sweating but they are professional enough to keep smiling and serving!!! Also I was annoyed because Ads promoted by them about special promos for UAE residents turned to be ....!!! They must consider adding entertainment like a band, a singer or any type of show in any of their restaurants.
Dr. Eissan Ragab
Nice room but had to call out the maintenance guy to fix the shower, took him two callouts to fix the problem. Politely asked a white Eastern European male at the front desk to complete a small task for me, which he did begrudgingly with attitude. It's supposed to be a five star hotel, some staff members leave a lot to be desired. The only saving grace was the morning breakfast buffet and the sheesha quality and service in the evening.
Blackbelt786
The staff are very kind, the whole place is clean, like, polished clean. The room services work 24/7 and most restaursnts are open until midnight. Some rooms are interconnected and may be opened to the nearby room if you booked two rooms that are together for easier access. Even if there is 3 or 4 people in one room, you can always order for an extra bed at your disposal.
Valery Zabrodin
Average by Dubai standards. Not so good Slow check-in, overcrowded pool seating, dark rooms and lack of taxis at peak times. Good Vouchers for drinks between 5 and 7. Friendly waiters.
James Fuller
What a amazing experience from the staff to the scenery and especially the food, while your here you have to go to the buffet its amazing quality food and would see myself staying there again just for the buffet. The Staff where so nice and welcoming and always saying hello and asked if you needed anything if you where walking into the cinema, outside at the bar, or at breaky. This amazing Resort is surrounded by a amazing beach and theres even pools there if your not into the beach. If you want to go on a Dessert Tour no problem they will book it for you. Honestly i could go on for days but this is just a amazing place to stay and couldn't be more happy with the Experience and time we stayed there.
Liam
A gate away place where you can spend a relaxing time on a weekend and enjoy the facilities... Staff are amazing especially Auhood ! Thanks...
Saleh Mohammed
Extremely fantastic place, interiors are amazing, staff are very kind and professional as well, we had dinner at the imperium with a high quality dishes but very limited varieties.
Ahmed Hameed
Lovely hotel. Great location. Staff are wonderful and the foot is amazing.
cameron railton
Located on the Palm Jumeirah archipelago, this palatial luxury beachfront hotel is 18 km from the Mall of the Emirates. The ornate rooms feature flat-screen TVs, free Wi-Fi and iPod/iPhone docks, plus marble bathrooms and balconies with sea views. Club rooms add private lounge access offering free breakfast, lunch and drinks, while suites add living/dining areas. Some suites include saunas, kitchens and butler service. Villas are also available. The hotel has 10 sophisticated restaurants and nightlife venues, plus a posh spa with a gym. Other amenities include indoor and outdoor pools, a Sinbad-themed kids' area and 2 tennis courts.
Md Mottalib
Amazing hotel, top professional service. Perfect location
Boban M
Excellent Service. Staff all friendly and would definitely stay again! well worth the money and service. Loved every bit with the extra birthday touch and complementary gifts!
Kami Khan
Luxurious resort with stunning views of the palm jumeirah and Dubai Marina. The moment you step inside the hotel you are treated like royalty. There is a slight problem with crows stealing food and ruining the atmosphere.
Ahmed Al-Subaie
Amazing experiance although the traffic at the palm can be very busy nevertheless the hotel carry an amazing experiance of ottoman grandiur in the middle of the dessert.
Mohammed Aljahmi
Very nice place ,I recommend all to visit spa you will feel like in the paradise
Waed Saadeldeen
Love it , my favorite place and the manager Khalifa is the most amazing person in the hotel
rose
Jumeirah Zabeel Saray is a palatial resort filled with all the grandeur you could expect out of Jumeirah property. The resort is at the edge of the Palm... Rooms are spacious and decorated in royal style... Multiple restaurants to satisfy your taste buds, The have one of the best Indian restaurant in the five star property in Dubai... The beach is small but absolutely clean... Staff are always to assist you to take care of all your needs. The spa is again the best in the middle east as per jumeirah. Highly recommended
Dilip Jain
Very nice hotel with very good service. Nice SPA with sauna, steam and snow room. Worth to try.
Ricardo Quintero
Spectacular hotel! Amazing and beautiful. Service is on the highest level. I felt like I was a princess. SPA is must visit
Margaryta Goncharova
Amazingly rich and pompous! Visited Amala the Indian restaurant. Nice food.
Kirti Meghnani
Amazing 5 stars hotel. Great rooms, amazing bathroom, on the palm, great pool, beach...and amazing restaurants! Staff always here to help
Hofmann Patrick
The room was very spacious and comfortable with an amazing bathroom. The breakfast was to die for and reception was very efficient and friendly. Pool and beach were very clean and enjoyable and the spa area was incredibly big, luxurious and full of surprises. Highly recommended
Laura Zanichelli
This is great place. We like it to much. The pool and beach very good. The food is very nice in all restaurants. But of course everything is expensive. But for small items like water, juice or chocolate and ice cream there is one building name Grandeur Residence. On the ground floor there is small minimart they sell grocery items. Have a nice day. PS' They have also fresh fruits and vegetables. We like the place to much
Adilet Eshimkanov
Great place to stay... first class amenites... Awesome service, awesome rooms and suits.. Recommended to visit in December to January as we can get some offers..
Dennis Shii-Cho
Lovely looking hotel, nice and clean with plenty of staff around. Went to the rib room restaurant there which was also very nice
Aled D
Excellent place for adults. There is plenty of restaurants, and bars to choose from along with some shopping. Very upmarket and is definitely targeted at the wealthy.
Brett Comte
Large, multi restaurant property on The Palm. Luxurious facilities and very family friendly. Beach faces in to the Palm lagoon and is ideal for those wanting a safe environment for children. Close to Dubai Marina and worth taking a boat trip to view the variety of boats and luxury yachts. Wide choice of restaurants but, as usual in UAE, the wine list is expensive.
Graham Wilkie
A must when in Dubai. This luxurious hotel ticks all the boxes. Located on the palm great rooms, fantastic restaurants and a spa that is world class. Try the Turkish Hammam you won't be disappointed.
Tony Ozdemir
Faultless. Everyone very helpful always greeted with a smile and a chat. Meals great. Room to die for with large bath. Large bed, seating and a good view even though building work going on. Good pool area and private beach.
John Foote