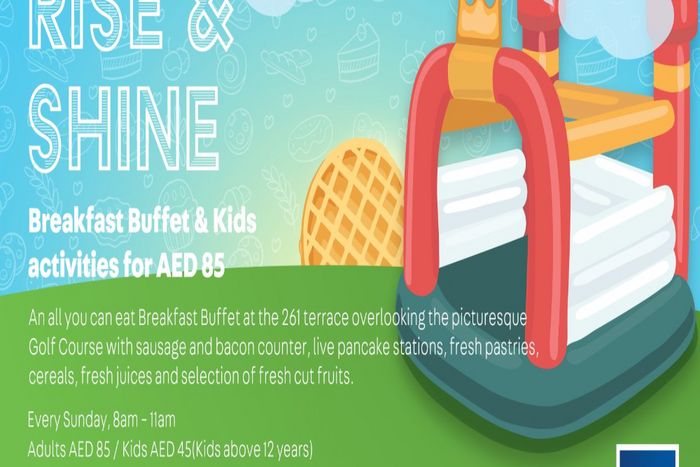 Rise & Shine Breakfast Buffet
dubai

, Explore The City
This is definitely one of my favorite places in Dubai. I've been here many times, for breakfast, lunch, dinner, gatherings for drinks and also last new year's eve. I would always rate it 5 starts. The food is tasty, outdoor sitting area with golf course view and super friendly staff. 261 is one of the restaurants at Els club Dubai.
laith haddadin
Breakfast T the Els Club was great and service was excellent. Lovely venue. Golf course looks amazing.
Ally allyc@mobileemail.vodafonesa.co.za
Not too crowded, seating indoors is quite comfy, but outdoors is bomb 👌 😋 Menu is versatile have great options that can be combo with there home grown vine from vineyards of Ernie Els. Quality of food with great taste is priceless but their price for these is also not too hefty
Muhammad Umair Khan
Really enjoy this place for a family lunch. The menu has a lot of different choices which can be accompanied by Ernie Els' wine from his own vineyard. The seating inside is very comfortable! But the real plus is the great outdoor area, especially in winter! Price / quality definitely a great choice.
Bart W.
I love this place, always good vibes Their thai curry is great and burger is fenomenal! It's kids friendly, lovely staff, and their happy hours are very vibey! Looking forward to Ladies night ❤️
Lorena Vela
Updated review: their food and service have seem to gone downhill. The service is very slow and not impressive at all, wait times are disappointing for having your food order taken. Furthermore, they aren't very attentive. Food is mostly quite good though. Past review: Food is absolutely delicious 😋, expensive but really really good. Service is also kind and friendly. There is also a nice view onto the golf course with a beautiful golden hour sunset
Patryk Sobczak
Nice place, a little too bright for a date with no noticeable music so it's great for reading a book or a business meeting, no smoking inside which is a great thing to see and they have a lovely outdoor area for smokers. Soup of the day was mushroom soup which tasted better with little black peper and was less creamy than I would like, the Tom Yum soup was delicious! The right amount of spices and chilli, the Lamb Dum Biryani was surprisingly good and favourable and finally the Beer Braised Pie was tasty with small cuts of the most amazingly tender meat but a bit salty for my taste but If you read my other reviews you'll notice that I find a lot if dishes salty so I think it could be just me. Service was polite and nice and the food came quick. On that Monday they had a two for one offer on sandwiches and main courses. Excellent value for this lovely restaurant.
Sultan Ashawi
Used to go there quite often. Friendly staff, but slow and quality of food dropped since the past year. Knowing that it is pretty expensive it is a shame. Quite sad about it, I used to like that spot...
Benjamin Hagen
decent food, bad kids food. good view onto the golf course
domiawesome domiawesome
decent food, bad kids food. good view onto the golf course
Dominik Sobczak
Slow service
Ademola Anifowoshe