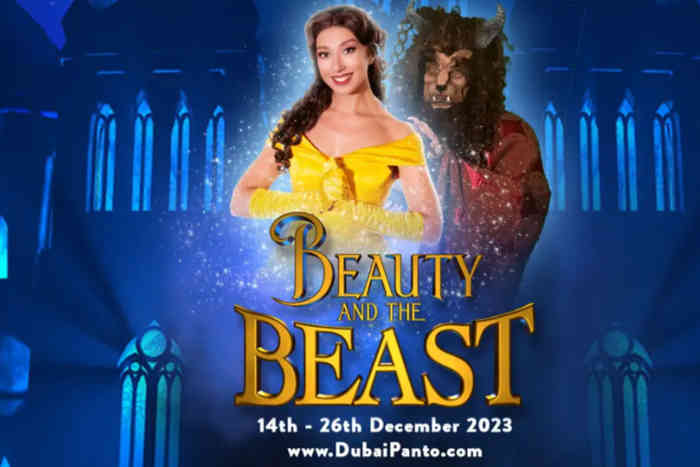 Beauty & The Beast Show
dubai

, Explore The City
Limited time only!
Enjoy a fabulously festive Christmas wonderland in Fairmont the Palm & don't miss Beauty & the Beast live show!
Absolutely the best hotel in Dubai. Had been now several times there and it was always amazing. The breakfast, the dinner, the service, the rooms, the pools, the beach ... it cańt be better. Totally in love with this hotel. Also the location is great for sightseeing in Dubai and the area. The a cab you easy and fast everywhere.
Julia Walter
2021 update : construction finished :) But today I had situation , I asked the pool guy for extra towel for shower after I finish from pool, he told me as per the policy only one towel u can have !!! I have been in Dubai for 15 years and traveling around the world with 5 stars hotels first time I receive this negative feedback from 5 star hotel , it is not pool guy mistake he was such nice guy but I am surprised from hotel policy and such bad customer service hotel policy !!! Before 2021: Too much construction and noise around the beach and pool opposite to adults swimming pools
Issa
Truly a 5* luxury hotel. The room is big and feels luxury, the staff are so attentive and helpful and the pool area/restaurants are amazing. Incredible views from the pool side of the hotel, out to the beach and sea with a skyline view. It really is the sort of hotel you dream of staying at for the most wonderful holiday. I think I've found the hotel I'll always stay at now when on the palm.
Daniel Harris
Nice resort, amenities, plenty of restaurants to choose from. Excellent experience in Little Miss India restaurant , with very nice and polite staff. A bit disappointed with the reception staff. My husband was trying to arrange a surprise for my birthday, the lady at the reception stated that there is no issue and that they already have something prepared in the room, which they didn't. So, not very personal to the guests experience, at least in our case.
Adriana Zlatariu
Fairmont The Palm is an idyllic luxury beachfront family resort situated on Dubai's most sought-after island community, Palm Jumeirah, offering 391 rooms and suites overlooking the Arabian Gulf and the glittering Dubai Marina skyline as well as 8 versatile event spaces. 11 gourmet dining experiences await guests alongside a wide range of leisure activities including four outdoor swimming pools, state-of-the-art health club, award winning Willow Stream Spa and a Fairmont Falcons Kids Club. Enjoy a luxury beachside holiday at Dubai's 5-star family friendly resort, Fairmont The Palm. Located only 5 minutes from the bustling city, the Palm Jumeirah resort boasts 11 restaurants, 4 swimming pools and Willow Stream Spa. The city's major attractions and airports are all located within easy reach, marking the resort apart as a unique leisure and business destination.
Saleh Murad
Great location - close to Marina and the malls, albeit short ride in taxi. Staff are wonderful and always there to assist. Ample room in the swimming pool, they have 3 attached and a seperate in3 for adults. Would highly recommend.
Jay Patel
Been visiting Fairmont the palm for the past 3 years and I never had any complains! The staff are super friendly especially in mashrabya lounge, the gym is nice and clean and my younger sister loves the falcon kids club a lot!! Rooms are spacious and nicely styled.
Susu Rika
The room is big and clean . They have more than one pool to chill in , and of course there is a beach side but they don't have many options for water sports .They also have a gym which include many machines! If you choose breakfast during your stay , there are two places to have breakfast in this resort . What i disliked is how they treat you when you eat in a restaurant or drink something , they bring the bill quickly as if you're going to run without paying ! But everything else was perfect .
jana khalid
Amazing place for relaxing. Very friendly staff. Room is big and comfortable. Facilities are amazing. Food is perfect. I will sure come back again.
Ruba Younis
Nice place, we had Eid here for work. Rather fancy for the price we paid. Food was good, despite a rather long walk from our table. Buffet style dinning is a bit chaotic, but after a hour or so becomes free
Jumper jumps
This is an amazing location in Dubai, the hotel is located at palm jumerah, Dubai. A nice view from backside of the hotel to city buildings and private pools are provided for guests. A number of restaurants with choice of food. Bar is available in this hotel. Overall, a good location and hotel to spend your time during visit. However, this is bit expensive than other locations
Inderjeet Singh
Five stars hotel in Dubai City located at the Marvel area named The Palm you can view the palm using Google earth or Google maps. Very nice view and location. Food is very good at the hotel returants. Helpful staff.
IBRAHIM ALI
Love this hotel, they have amazing health club, yoga and meditation. I also went to yoga on the beach was great. Only problem is contraction which disturbing view, but it is not bothering me, I prefer pool. There are two pools for families and other for people without kids
Mariya Menshikova
Nice location and the hotel has nice facilities for kids, warm shallow pool, water sprinklers and kids club. Kitchen staff have also been very helpful with our indian vegetarian options and cooking things off the menu. The reason I have not given it 5 stars is because there is no evening entertainment and the beach is man made and not sandy as I would have hoped.
Rishi Prashar
Very nice hotel, i was invented there for a company seminar. They hsve good meeting rooms , good service and cheap compared to others hotels. They also offering nice and tasty snakes plus coffee, tea and other soft drinks. At lunch time we went to open buffet. To be honest, I can't say that was bad or good buffet. You can say , it is very commercial one. Differently there's much more better open buffets I have seen. However overall , it was okay experience.
Khaloood 007
Nice and friendly staff and it is big. This is a hotel you should stay in :) some of our friends stayed there as well and they where happy. I think it looks great!
Happy Harley
Truly underrated hotel... Which is not surprising since there are so many luxury hotels in Dubai. It's great for corporate events. The staff is very accommodating. We have held two great events there. The scenic views on the back side of the hotel of the sea, marina , and JBR are beautiful. A nice get away from the hustle and bustle. My only compliant is the directions and approach to the hotel. If you miss the service road, it's a long way to come back around.
Ahsun Jilani
Oh, i can't describe this hotel in word. One of the best. Staffs are very friendly & polite. 4 swimming pools, award winning spa & restaurants. Private beach & residents. One of the best hotel in Palm Jumeirah.
Animesh Sinha Roy
Beautiful hotel. Away from the busy mainland. Private beach, lots of lounge chairs available. The pool is the best part. Lots of sitting and lounge chairs to choose from. The lobby smells amazing, lots of shops and restaurants. We also did the high tea and was amazing. Go hungry for sure. The beach is ok. No waves but the water is cool and clear. The sand is also very clean. Very friendly staff and always willing to assist.
Sebastian st-laurent
Couldn't fault. Brilliant staff in all departments. Amazing food. Good location o the Palm.
Alan Garbutt
Lovely hotel on the Palm, located right on the beach. Has a couple of good restaurants and a good cigar bar. If you like meat I would recommend their Frevo restaurant. It's an all you can't eat Brazilian restaurant. Where they keep bringing you various cuts and seasoned meat from the grill. There is also a salad bar buffet and live music on the weekends.
Ben Locke
went for Brazilian Churrascaria experience at Frevo restaurant in Fairmont. Excellent idea if you love meat. Not cheap but the variety, quantity and quality of meat they serve is excellent. Your will enjoy it.
Muhammad Azeem
Very nice. Only problem is that no where does it say that there is a construction happening right behind the pool area and the beach. Bit of a disappointment to find out while on our way to swim. They charge a lot for very little portions of food, which taste very average . The rooms were great and the lobby's smell is amazing and refreshing. Staff were friendly & always helpful. Highly recommend this if you like construction views lmao.
Mu7md Al-Mu7taseb
I love this hotel! Staff is extra friendly and hotel design and decorations are superb! Will definitely stay again and recommended to all. Oh and the morning buffet was to die for. Best foods, and freshest fruits. Worth every penny.
SHANNON SMITH
It's fantastic hotel we very friendly staff and lovely environment we had our wedding there and our guest enjoyed the hospitality.
HANSA PATEL
Visited the Indian restaurant (little miss India). Good food. Great cocktail.
prosenjit ghosh
Utterly mind-blowingly stunning hotel paradise.. Location was wonderful; aroma that hits you the moment you walk into the grand ornate hotel reception lounge, is so intoxicating. Staff were courteous, funky & so knowledgeable and incredibly happy to help in every way possible. Pools we're heated and how perfect. Food was plentiful and so gorgeous and yummy. Little Miss India was scrumptious! Breakfast couldn't be bettered ! The chefs bent over backwards to help us. We miss the Fairmont..it was just restful, and so idyllic... We will so so return back and stay their again.
Mark Sahu
Awesome Hotel. Excellent breakfast buffet. Top service. The only drop of bitterness was the construction areas at the beach that has a beautiful view to the seaside of Dubai Marina. All over all we had a perfect stay.
Claus Nöthen
Good Hotel and atmosphere also nice... friendly staffs.. suitable for vacation
Anu Cheriyan
Nice food great staff ....very helpful and friendly. ..The wine £55 to £65 pounds a bottle. ..so no drinking .......water £ 5 a bottle during meals but.....free on the beach and room !!!!!
Chris Challouma
They have this restaurant called Little miss India. Food there is just amazing! Pricey though..
shehan gomez
∆one of the best hotel in the world. ∆Have all the modern amenities ∆Parking is very very big. ∆Great view from the balconies of the rooms.
Sunnykant Tiwari
∆one of the best hotel in the world. ∆Have all the modern amenities ∆Parking is very very big. ∆Great view from the balconies of the rooms.
Sunny Kant
∆one of the best hotel in the world. ∆Have all the modern amenities ∆Parking is very very big. ∆Great view from the balconies of the rooms.
Savdhaan India
One of the best I have stayed in. Superb service from front desk staff and waiters. Breakfast is fantastic, as is the pool and beach facilities. In room dining is excellent. Would highly recommend when visiting Dubai.
Tajesh Patel
Amazing property...... Awesome view of the sea..... Beach adds to the beauty of the place
Varsha Sethia
Hosted an afternoon tea for a baby shower. Absolutely brilliant food and tea selection. Nice relaxed place with great service.
Fidha Sharaf
Went for afternoon tea last weekend. Was first time to a fairmont hotel. Was really lovely. Great afternoon tea selection - festive themed and with some arrival canapés and welcome drink, then the sandwiches and cakes and scones - and beautiful location and decor. The tea selection was quite limited but the two we had were really nice and not sickly or too sweet. The price was good too. The only improvement would be to offer more tea or coffee more regularly as bringing or clearing away items.
Harriet Roser
expensive and good breakfast construction site around the pool area a lot of noise and building dust
mårten bjurn
Simply Flawless. Exceeded all expectations. The staff are always so immaculately dressed and present just perfectly, always smiling and happy to help in any way they can!. The hotel itself is just so exquisite and sophisticated, the attention to detail in everything is second to none, simply outstanding on every level.
Melissa Sullivan
Absolutely first class in every respect. Exceptionally well kept, staff incredibly attentive and service fantastic. A wonderful place to stay.
Geoff Laidler
My first five star experience. Stayed two days and a night here. The gave me an early check in option when I asked them. The staff were very friendly and helpful. The food at Flow restaurant was good and to my taste. They have buffet, and a much wider choice of food when compared to other places I've been to. Cocktails and meat unlimited meat skewers at Fervo was excellent. The hotel has a free underground parking, free Wi-Fi, two big pools, and an amazing spa.
Hans Krishnan
Customer service was excellent and the hotel was beautiful. I will definitely be staying here again the next time I visit Dubai.
Aniqa Ahmed
Amazing suite, great location, facility and service was 5star. Highly recommended
Ahmed Assaad
Very nice hotel. Good rooms. Helpful staff. Great location. Delicious food.
Samer Daouk
Wonderful and best hotel on the palm. Family friendly indeed. All credit goes to all staff from housekeeping to management and doormen. Everything has been wonderful and amazing. I would always go back their again. X
Waheeda Aslam
This is an absolute incredible hotel. 5 star hotel with a 5 star service. Every employee deserves praise. They make the hotel. Recommend to anybody looking for Looking for Luxury
Tom Doughty
Unacceptable poor service for a 5 stars hotel. Ordered lunch by the pool. After few minutes lunch was delivered, while i was visibly eating, the server approaches me asking me to pay the bill. As I ask "do you need me to pay right now while I'm eating?" He replies with a firm "yes". Spoke to the restaurant supervisor, who instead of apologizing, stated that this was the procedure. Standard quality for the food. Standard facilities. Rude and uneducated staff.
Emiliano Riverso
Amazing place, quiet and breathtaking view of the marina of dubai. I have been only at the pool, the service is quite quick and the quality of food is appreciable. They offer discount for Emirates Airlines crew.
simone bernasconi