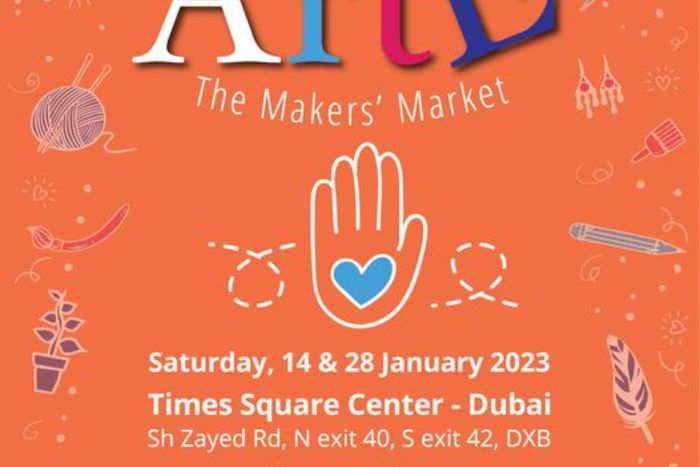 ARTE The Maker's Market at Times Square
dubai

, Explore The City
Nicely organised market with a wide selection of handmade crafts and artists
Dalia Elmolla
My second visit to Arte. Mall is easy to locate with ample parking space. Lots of hustle & bustle and enjoyed the hours I spent there supporting my lovely daughters' skincare venture - Skinsation by N. Loads to choose from useful oils of Saante, soothing scented candles of Rakfam, monogrammed scarves and hats by Ombre by Nadz and paintings galore. Worth every visit and a shout out to the organisers.
Nasra Al salmy
Arte Market is simply amazing. You get to meet so many talented vendors and surrounded by outstanding crafts. It was such an honor to be part of the event displaying our handmade products for Skinsation by N. Thank you for replying and will be seeing you soon.
Nafi Al Kindy
Best place for handmade products made by Great craft makers!
Azif Demuynck
Come and visit our stands at the Arte market today. It is the makers'market and all items are home made.
Champ Val
So much fun!! 🌸🌸🌸🌸🎁🎁🎁❤️❤️❤️
Rebecca Roffe
ARTE is a great market to find all handmade and not mass produced! Very talented artists and designers from around the world showcasing beautiful products, art, decoration for home and nice activities for the kids while you look around! :)
Lina María Suárez Vélez
A lovely little find! This market has hundreds of different handmade items, made here in Dubai! Everything is unique, from cosmetics, to paintings/ art of dubai's own streets, to fashion, pottery, jewelry, you can definitely find something for everyone! And at least you know no one else has the same one back home :)
Jessica Cocks
Arte is a very unique market in Dubai : forgot the mall and mass production, in Arte you find crafters with a lot of talents and so many different things from painting, to jewels, from sewing to design... An amazing place to visit twice a month in Time Square, the second and fourth Friday of the month. I love Arte Market !
Frederique Declercq
I love organising ARTE the Makers' Markets - something new every day... working with so many 100s of exciting people and all of them so passionate about their design work. I hear regularly that lives are changed, goals are reached and missions completed.
Miriam Walsh Hoogewoonink