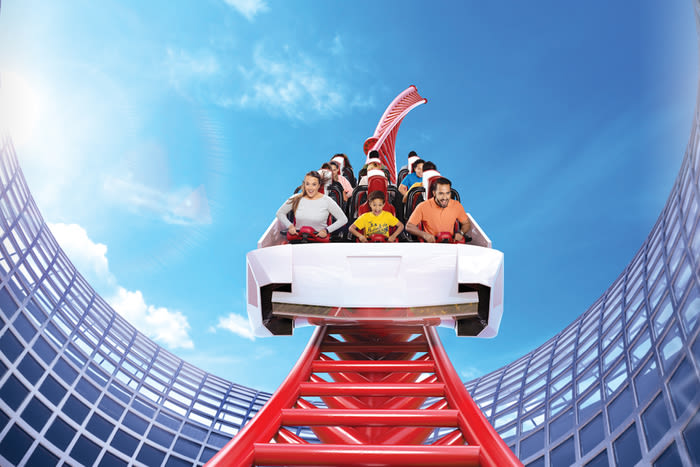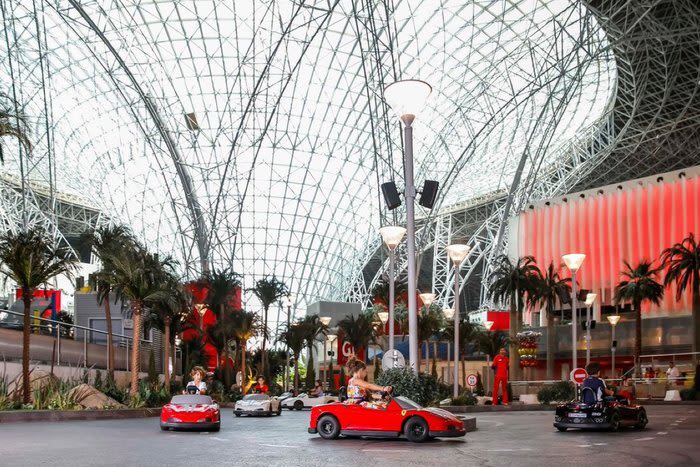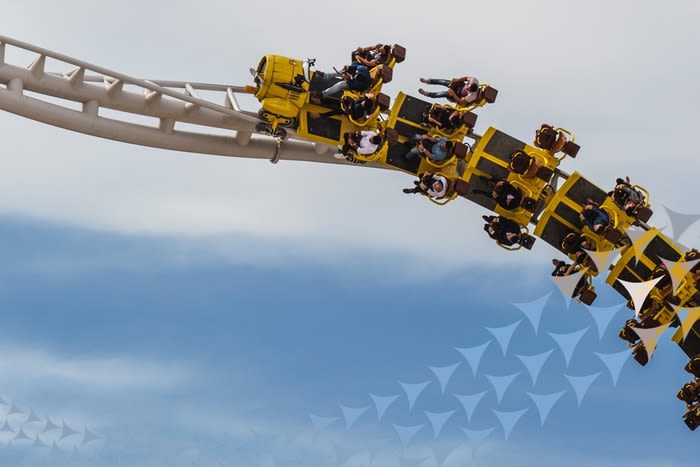 Ferrari World
abu_dhabi

, Explore The City
Limited time only!
Get ready for the ride of your life at Ferrari World Abu Dhabi! Please note that the Fiorano GT Challenge ride is unavailable until further notice.
15 AED cashback

Get ready for the ride of your life at Ferrari World Abu Dhabi! Please note that the Fiorano GT Challenge ride is unavailable until further notice.
The construction is amazing! Amazing amount of greenery! Staff at every attraction very helpful and friendly. We were with our children who were 12 years old. Unfortunately most of the attractions for younger kids. A place where you could climb and jump - every now and then in the cleaning :-( At the end of the day they opened a big queue and that saved the day. They work with poor hotels that they recommend on their website. Online customer service does not work well. It's a pity because the entrance costs quite a lot.....
Lucyna Czajkowska
weekdays is empty like fast pass i like it
DR.samer shukri
Amazing atmosphere, very well taken care off. Would definitely recommend and revisit. Rides are really fun. Good food but not too much variety of food types. Pricing is quite high. Overall amazing experience.
Adam Raslan
Great atmosphere. We enjoyed a lot. Bit dissappointed since the Formula Rosa was closed. Other than that the experience was fantastic. The staffs were so friendly especially Ms. Eunice from the restaurant. She was absolutely kind & helpful. Truly appreciate her outstanding gesture. Will definitely come back
Prasad Dammika
Who love speed . whom should come and feel the speed. Amazing facts inside. A different planet of speed. Different speed. Best place with family and children. World faster roller foster is wonderful experience about me. More than world famous restaurant's included. Be care full it little more costly. In a proverb don't check rate what we eat through mouth. So all please come and enjoy the life.
Jibinvp Tec
It was a great experience and if I go again I will come back. There are many nice activities inside. Do not return without getting on the fastest roller coaster in the world. The dining facilities inside are great. We provided transportation from Dubai by car, we only went for Ferrari World. You should devote a day to this
Ahmet Ermiş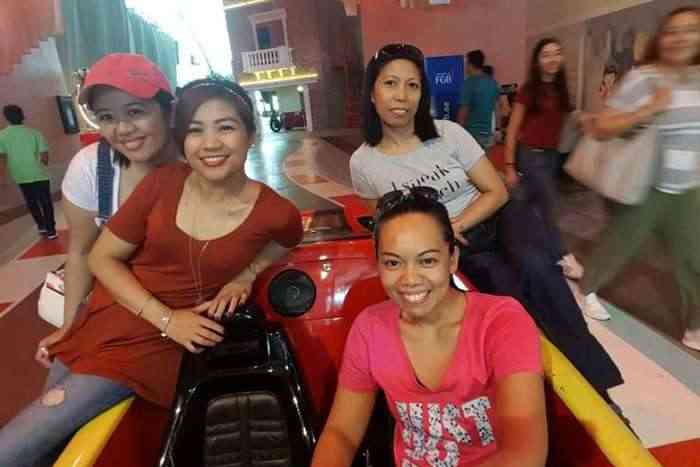 Ferrari World Abu Dhabi is really really a must-try fun activity with family and friends. Been there for several times and challenged myself in Formula Rossa and Flying Aces twice. It was a fulfilling experience and so much fun!! As in, sooo muccch fuuun! I will always treasure the memories I had with Ferrari World Abu Dhabi! 👍👌
Jensen Ner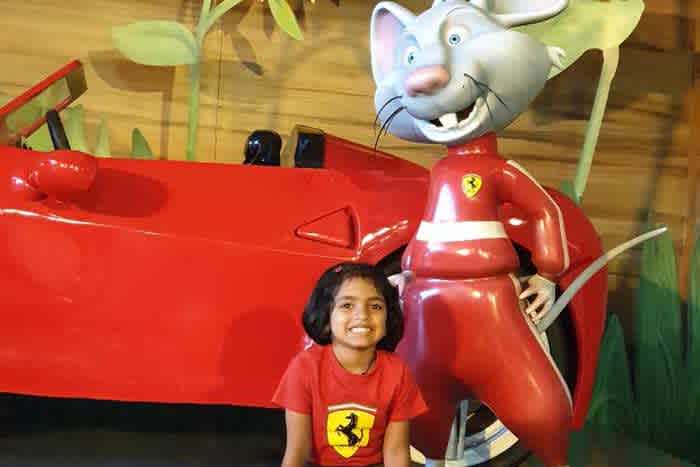 If you like cars, thrilling rides, the brand Ferrari and some world famous amusement park rides then you must visit Ferrari World. I visited this place by buying tickets from Qidz App. We had a full family one with 3 generations. I kid you not, my mom and dad loved the super fast Ferrari rollercoaster as much as my husband and I. my daughter who is 4 years old enjoyed getting kiddy driving lessons on a mini Ferrari car. We loved our day, created some amazing memories. If you want to see more from the day, catch my Instagram post review on @love_life_littleone
Meghna Dixit Subramaniam
A place to go to pump up adrenaline rush cravings! there is something so magical about speed yet danger is something that goes in hand with speed ! Ferrari world has managed to bring speed and safety together, making the whole experience so exciting and makes you wanna go more and more! The thrill and feeling after going for the fastest roller coaster in the world is very addictive ! we can't take any food items inside, but carrying a few snacks for kids is advisable. eateries are pricey, but the service is excellent. friendly staff, prayer room facility, and clean washrooms! we loved the themed rides, and theaters that gave a feeling of traveling all over the world
Hiba Basheer
All things that Ferrari stands for. The rides are exciting & breathtaking. The documentaries and informative tours are also very interesting. Great place for both children & adults alike!
Sagar Chandekar
Very nice place to go. It has a big history of the car: Ferrari. It has the fastest roller coaster in the world😱 But there is a bigger roller coaster then the fastest ride in the world which is called Flying Aces!!!! And also GOOD FOOD!!!
Ansal Shah
Fun place with thrilling rides as well as family rides. Do not miss out on the formula rossa and if you think your a daredevil then try riding in the first carriage. Flying aces also is an amazing ride with the world's tallest loop so do not miss out on that, my third favourite ride was the turbo track, make sure u sit on the last seats facing backwards for a better experience.
Mohammad Saad Siddique
My visit to Ferrari World - the world's largest indoor theme park will remain a memorable one for a long time. The roller coasters were the main attraction for me. It has the fastest roller coaster in the world - the Formula Rossa and it was such a thrilling experience riding in it. I also enjoyed three other fast rides all with different amazing experiences.
Mabo Damisa
THE FIRST FERRARI BRANDED THEME PARK IN THE WORLD Get set for your biggest thrills ever. The Park features a winning mix of rides and attractions for visitors of all ages, in addition to a wide variety of Italian delicacies and unique shopping experiences. Whether you crave the intense G-force of world-class rollercoasters, want to go-kart race with your family or challenge the best lap times in a state-of-the-art simulator – we have endless fun for everyone.
Nicole Mui
Fun theme park for the whole family. They have something for everyone. Although I wish they allow people who just wish to visit and don't want to take rides to come in free or with a very small fee. I am sure they will get more footfall then possible more business for restaurant and other shops
Guruprasad Korgaonkar
AWESOME | GREAT Wonderful experience of Ferrari cars and rides. Wonderful designed rides for all age groups. The rides are not crowded and waiting period is not much. One of the most exciting rides is the one which has a steam catapult to propel you to take off speed of a carrier based aircraft.
Samseer K Muhammed
Superb ride. Total adrenaline rush. Fastest Coaster. Flying aces are must go ride. Go cart is superb but need to pay. Ferrari car display is good as well. Need full day to enjoy the ride and total amusement. Be an early bird. Do not Miss a thing. A full worth for the money. Can get a combo ticket with Yas Island. Superbbbbbbbbb.
suhail pawane
Pretty good food, amazing service and rooms. Complimentary break fast was top notch. Loved it. There was a sweets shop on the ground floor as well. Also, anyone staying here gets one complimentary tea per head.
Ishan Meena
Ferrari World Abu Dhabi is an award-winning amusement park on Yas Island in Abu Dhabi, United Arab Emirates. It is the first Ferrari-branded theme park and has the record for the largest space frame structure ever built. The theme park can be reached by car from Abu Dhabi, Dubai, and Sharjah, as well as by free shuttle service which is available all over Yas Island. Loved visiting this place. The rides are amazing, some are extremely fast .it was a spectacular experience riding the world fastest roller coaster. All types of rides are there for all age group.Even a kid can enjoy and an adult can enjoy. Food and drinks are available throughout the park, Safety wise everything looks well maintained. Truly a magical experience.
Sonia Gupta
Awesome place is you are an adrenaline junkie. The Ferrari world is were you experience some of the best adventures rides in the world. The turbo tracker is just to warm you up. But never ever miss the rides Formula rossa and Flying aces (not for the weak hearted) There are really interesting features to the place like a 3D show were you fly over an Italian village and the one where they explain the making of a Ferrari. The design of the entire place is good as people can navigate and spot places easily. There are many good food joints at the place too
Renjith V P
Perfect experience ever... All types of rides are there for all age group. Even a kid can enjoy and an adult can enjoy.. If you are hugry than also you'll find all types of food.. Superb rides.. Every thing was just beautiful! The cafes and food stalls made in it were awesome.. Best ever experience for me... The best part is its indoor so the atmosphere is very pleasant...
Mehdi Mahdian
It's a great ferrari themed park.. Many of the rides are simulated rides.. Must try the world's fastest roller coaster..!!
Sana
Loved visiting this place. It was a spectacular experience riding the world fastest roller coaster. Truly a magical experience. This place has so much to offer. Definitely won't be disappointed if you visit. Make sure you are there at the entrance before it opens, in that way you can go on more number of rides without waiting in a long queue. But you have to keep in mind that if you want to go on a ride once again, make sure you complete all the other rides first as the queue will get longer at a rapid pace. I came to the uae for a tour along with a group of friends. We had to visit so many places that we spent very little time. We went on all the rides but only once. So it's better if you plan accordingly where you can spend more time here. Definitely worth it. Will visit again.
Chris Noel
Ferrari World is the best Amusement Park ever built. It has all types of rides and the best part of it is the ROLLER COASTER. You should get The Roller Coaster experience at least once. The amusement park is for the whole family. The 4D shows are also a must at The Ferrari World. There are small play area for kids as well. You at least need a whole day for The Ferrari World. You can't be experience the amusement park in a few hours.
Niharika Marsia
Great experience! Even though the park is mainly inside and it's not as big as other adventure parks, you can have spend one full day in there and have a lot of fun. The rides are amazing, some are extremely fast but still smooth enough to be enjoyable. Safety wise everything looks well maintained. Food and drinks are available throughout the park, however obviously more expensive than outside... Staff is friendly and helpful at all times. The entry price however is not cheap and more expensive than much bigger parks in other countries. Despite that I'll still come back as I had a fun-filled day!
Tom Backes