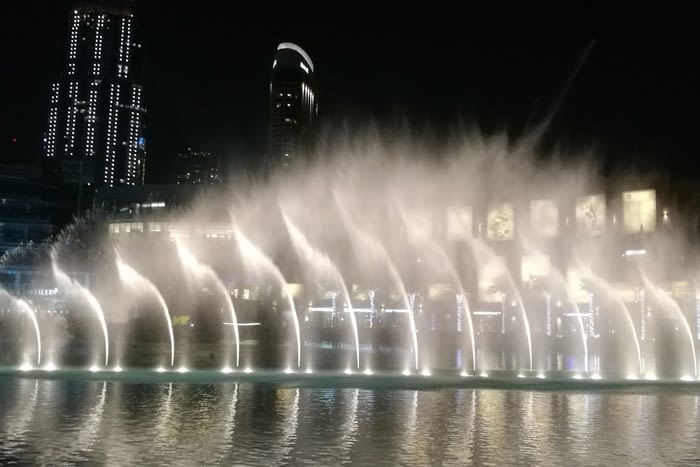 The Dubai Fountain Show
dubai

, Explore The City
Limited time only!
Buy Now before offer expires!
This is the best thing I liked about DUBAI. Must do when you are in Dubai!!! The fountain runs every 30 minutes in the evening, and it is a true spectacle for three to five minutes! I visited around 11pm and it was amazing in the night, must watch Show with boat ride. Absolutely stunning! Do not miss!
Aanchal Aggarwal
One of the largest fountain I have ever seen in my life. Amazing structure. Nice ambiance. Nice music with new color feature. Very crowded area because of his uniqueness. From all over the world people use to come here to enjoy the fountain. That's amazing architecture from humans..
James Anupam
Wonderful place of attraction. I have been to this place unlimited number of times. Yet each time, I feel it to be unique and attractive. Every relatives or friends who come to visit will request me to take them there. Food around this place it expensive but there are few restaurants that offer awesome view of the foundation while having a dinner or coffee. Taking a boat ride as well is a real good experience. Water Fountain and the Laser show really is wonderful.
Darvin M Wilson
It is amazing place. Very comfortable for a walking and get rest. Unbelievable atmosphere. Everyone in my opinion should see it in real life. You can spend all day next to. In evening it is miracle. Go and see. You will change your feelings after. I love it and hope to see not ones.
ıryna horokhovska
Really an excellent experience that I have ever seen in fact i also while watching first not able to understand but after 2 times listening to the music the water dances along with the music and according to the music.... Dubai engineers or the engineer who designed and proposed such an excellent design must be appreciated.... So much eager to go there again if long leave available again
Murtaza Bohra
where ever the venue...this is a worth watching show...considering it is compared to the one Las vegas. and it cannot be missed if ur visiting Dubai!
jen
very beautiful
Houria Rahimi
The first time
# It's RaftaaR
This place is awesome
Sajjeel Dilbar
Eine echt toll Show! Muss man gesehen haben wenn man dort war. Ab 18 Uhr und dann jede 30 min. Immer um xx.15 und xx.45 ist eine Lichtshow wo der Burj Khalifa in Farben leuchtet. Auch sehr schön.
Pierre No.
Truly interesting fountain show with music behind the Dubai Mall and overlooking the Burj Khalifa. The music changes at each fountain show so you could easily stay for more than one show. I noticed there's less people gathered for the earlier afternoon. weekend shows (check the schedule), so you'll get a better photo opportunity then. Nice family activity for visitors and residents alike!!
Megan
Le spectacle son et lumière de la fontaine est très beau.
Eva Mylle
No words!!!5star ⭐️
Camila Diaz
Magnifique spectacle !!!
Morgan MENOUX
Coś pieknego
Katarzyna Żebrowska