Home
/
KidZania Birthday Party Package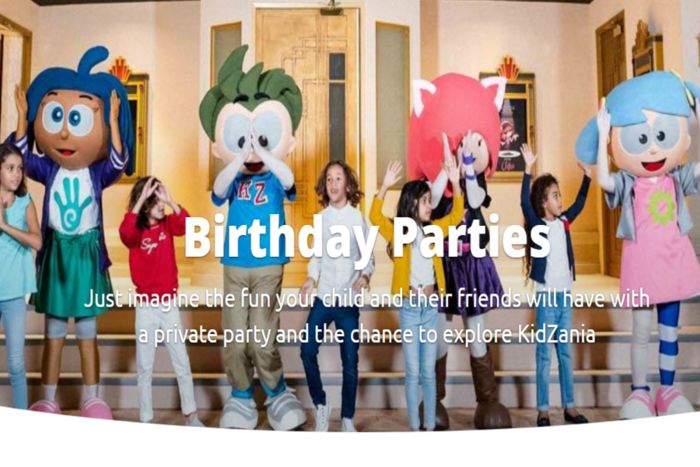 KidZania Birthday Party Package
abu_dhabi

, Explore The City
< 2-13+ yrs
All DEALS
Birthdays & Parties
Theme Parks & Fun Parks
Limited time only!
Let the fun begin & celebrate your birthday at Kidzania Abu Dhabi!
Read these deals terms and conditions
*After purchasing your voucher, please contact Kidzania Abu Dhabi by phone or email, kzauhbirthdayteam@emaar.ae or +971549986897 for agreeing on the date and time of your visit.
*A voucher must be presented.
*Booking is required seven days before the event. Party Venue is subject to availability.
*The vouchers are non-refundable and cannot be used as a standard entry ticket in KidZania Abu Dhabi.
*Rescheduled parties will need to take place within six weeks from the cancellation date, subject to availability.
*Exclusion days: Not valid during Public Holidays, School holidays and special occasions (24 December, 25 December, 31 December 1 January).
*The room is only accessible to you and your (paid or any complimentary) guests accepted by their management.
*Only the celebrant gets free access, in case there are two celebrants or twins, they both go for free (but we need proof for both their birth dates must be in the same month).
*For adult guests, we offer 1 adult free per 2 paid children. In case the number of paid children is odd, the lower number of the half will be complimentary.
*No annual pass holder or any offers are applicable for birthday parties. In case there are some guests who would like to join you inside without registering for party, they can join you after the one-hour celebration in the room and private activity.
*Any discount offered on birthday parties for staff or annual pass holders, will be only on the base price, not on the adds ons or total bill.
*Booking duration is for 45 minutes. At the end of this time, staff will begin to clean-up duties. In your best interest and the interest of other schedule events, it is important that you arrive as scheduled.
*The meals should be pre-ordered to our staff at least 2 days prior to the event. First-come, first-served policy of the restaurants should be followed. Additional food orders must pay in cash or card.
*The reserved room is self-directed and does not require an additional staff member.
*At least two adults must be present in the room to assist in supervising the children.
*In accordance with the Kidzania child admission policy, children under 120cm must be supervised always, including in the city before and after the party.
*Any additional entertainment cancelled within 48 hours will be charged to your final amount, all changes to be made 48 hours prior to the event.
*All persons entering the venue are subject to the rules and regulations set by the management and the management reserves the right to refuse to any guest for security reasons.
*Any photos and videos, paid for as an add on, will be available up to 5 days after the event.
*Any additional request done on the day of the event will be accommodated to the best of our ability and if available.
*All the standard terms and conditions as maybe amended from time to time.

Let the fun begin & celebrate your birthday at Kidzania Abu Dhabi!
KidZania Birthday Package
Buy this deal now!
Price per kid. Inclusions: Private Party Room & Decorations (1 hour), 100 Kidzos for the Celebrant, Combo Meal from Urbano's Pizza, One hour access to KalZpot, Electronic Invitations Cards, Party Host and Celebrant's Birthday Badge.
... Read More
Activity Description
Amazing childhood memories are priceless. With a party at KidZania, your little one can have fun with their friends in a private room before enjoying all the role-play activities throughout the city. This party package includes everything you need to celebrate the occasion, and you can add special extras to make it even more memorable.
Reviews
There aren't any reviews for this activity yet. Be the first to write one!
When
When
Sunday
10:00 am - 08:00 pm
Monday
10:00 am - 08:00 pm
Tuesday
10:00 am - 08:00 pm
Wednesday
10:00 am - 08:00 pm
Thursday
10:00 am - 10:00 pm
Friday
10:00 am - 10:00 pm
Saturday
10:00 am - 08:00 pm