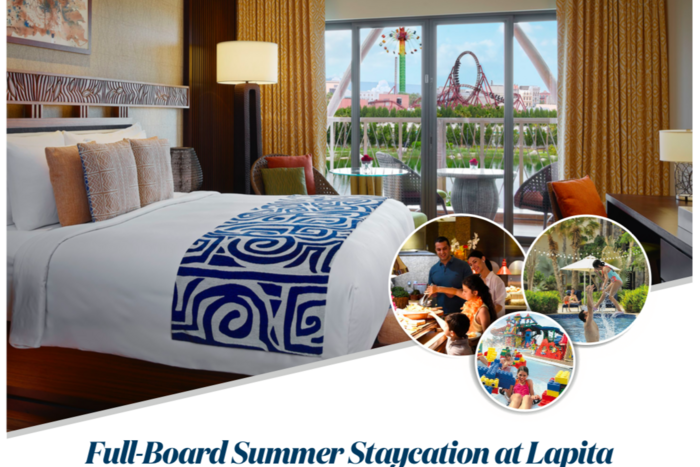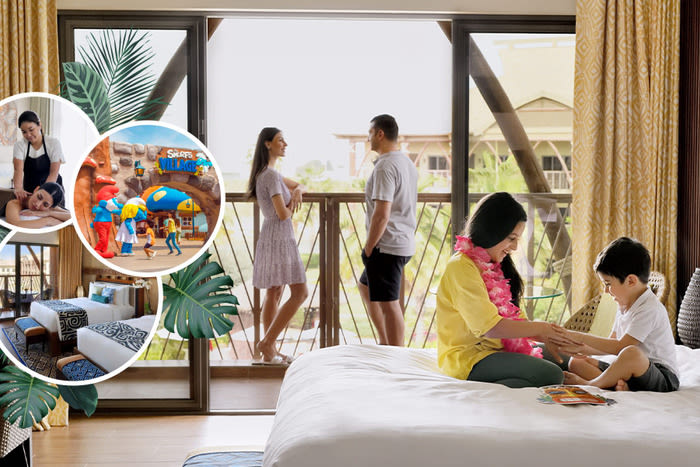 Full Board Summer Staycation at Lapita
dubai

, Explore The City
Limited time only!
Spend time with your family and enjoy FREE access to your favorite theme park from Lapita Hotel! Offer valid from 1st of August until 30 of September only.
Slightly far out from dubai.. bit a lovely set up and place. Rooms are clean and nicely set Staff have been very helpful. Easy access to parks. Breakfast has a lovely variety. Language barrier can be a bit of a problem. Walked all the way in the hot weather for towels, only for the guard to confiscate it. Really no communication and staff don't know what's happening in each parks yet they work as part of the resort. There's no towels for us to use if we are staying at the resort and visiting the parks!!!!
Raeesa Amod
Perfect for family and small staycation!! Marriott has done outstanding with that pool area, last pool facilities and we must mention, one of the best kids club facilities we experienced out of many five star resorts. The staffs are friendly and professional and kids loved being there for hours.. Rooms on the ground floor not bad at all as easy access form the pool and when you have small kids, we strongly recommend take ground floor and it's very convenient to get in and out of your room to the pool and other areas.. very conveniently designed for families. Besides you have tons of parks in walking distance, best outlet shopping experience within 2 min drive and so much more...we will surely go back there for smaller family getaways, it works for us
Abu Chowdhury
Amazing Place to be at with a wonderful view and a Hawaiian culture all around. Rooms are explicit and worth the money. F&B options are great. Plus the Parks around it are a place to go to. Wish I had 10 stars to give to this place
Animesh Kamath
Gorgeous property with the kindest of staff. The resort being away from the heart of the city makes it a very nice getaway. It also definitely helps that all the parks are at a walkable distance. I stayed in the family suite and the rooms were incredible and very spacious. To me, the highlight of the resort was the team itself; every process was absolutely hassle free and interacting with the staff was an absolute joy. Very helpful and they always always greeted you with a smile on their face The restaurant I went to was quite nice and their portion sizes were huge. The spaghetti bolognese in particular was delicious. Breakfast was great too!
Faahim Subair
Just perfect. A few minutes walking from 3 great themeparks. The best breakfast buffet we ever had. Diner buffer is also great and huge! Staff is the best to! We certainly will return here. Hopefully the subway from the city will be connected soon. Then this place will be even better (it is a bit to remote now)!
Pim Maters
Came here to attend a friend's destination wedding. The entire resort was very neatly maintained and rooms very very comfortable. Access to the parks were also very easy. The only let down would be the distance to the shopping malls & other entertainment areas of Dubai.
Bala Vivek Venkataraman
A luxurious hotel with outstanding services and very friendly and helpful staff, with an excellent location close to Dubai parks and the outlet shopping mall. Absolutely, this hotel is the right selection for travelers to enjoy the fantastic Dubai parks. The rooms are very large in size with luxury furniture and beautiful decoration. The bathroom is very large and equipped with a brand toileters. Breakfast is also excellent with many selections and varieties.
Adnan Almuslem
Fantastic resort with extremely helpful staff. However, we had an experience where a junior staff member told us that the tickets they give us can be upgradeable to an annual pass. That turned out to be a compete lie. But, everything else is great.
Krishnanshu Gupta
Perfect place to stay in if you visiting Dubai Parks. They provide a bus to the / from the parks every 1/2 hour. Clean, quite, luxurious. Hawaiian style and suitable for kids and young visitors.
Ali Alalawi
Slow service. Check in 1 hour only after complaining. Staff try to help but most looked stressed particularly at breakfast. Huge cafeteria type atmosphere. Room rate expensive as no park tickets included. Be sure to check when you book. Good bus service between hotel and parks. Rooms lovely but not sound proofed. Room service way over-priced. Nice hotel but service lets it down. They need more staff. On the pricey side too.
Tambourine Guys
A beautiful resort with excellent ammemities & helpful staff. The best feature being easy access to dubai parks & resorts. The buffet breakfast & dinner served Continental, Chinese, Indian, Arabic & Italian. Freshly baked pizza to order were truly enjoyed by the kids. A resort that has something for everyone in the family. The rooms are spacious with excellent views of the resort.
Fatema Asif
Honestly a major disappointment. Especially since it's part of the Marriott Autograph collection and is supposed to be in a class of its own. The place is obviously understaffed. I will admit though, everyone was extremely helpful and courteous. There just wasn't enough people. Check-in was a nightmare. So was check-out and breakfast was an absolute disaster. Dirty tables, no one seating people just someone signing us in. No silverware and no plates. Food all over the place and not enough people to handle everything. To be fair though - the rooms were nice. The people were extremely friendly and helpful and the food was great, when you finally get it ;) Convenience in getting in and out of the parks was the best part. It's a bit of a walk, about the same to the Parking lots but then you're home, not another hour driving. We had a great time overall. I really hope management does something about building up their staff, it would be a shame for the hotel if they didn't.
Noor Alnahhas
Charming, full of character hotel. Everything is well thought out and geared to families. There is a lot to see and explore and 1 night is just not enough. The French village on its door step made me forget I was in Dubai with its beautiful river setting and absolutely beautiful bridges. The only thing missing are the ducks!! Looking forwards to finding out about the boat rides which I was surprised to see quietly floating by me during my walk. I never thought I could describe any part of a theme park as peaceful but it's a world apart from the rest of the place. Wow!!
Soha Saleh
The experience of stay in Lapita was amazing. It's a Polynesian themed hotel. Its a very family friendly hotel. It has a indoor play area for kids. The breakfast restaurant has extensive options of food with kids menu as well. The hotel offers buggy services to Dubai Parks. The experience at the hotel was awesome.
Ishani Sinha